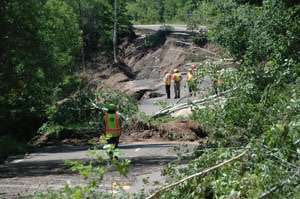 The U.S. Department of Transportation made $3 million in quick release emergency funds immediately available to the Minnesota Department of Transportation to help repair roads damaged by floods last month.
"Recent flooding disrupted travel in northeastern Minnesota and damaged local roads," said U.S. Transportation Secretary Ray LaHood. "These emergency relief funds will help Minnesota make repairs and begin restoring critical routes so residents can get where they need to go."
Northeastern Minnesota suffered extreme flooding following two days of heavy rains beginning on June 14 in St. Louis County. The storm's flooding and wind damage near Duluth caused erosion and landslides, severely damaging several sections of TH-2 and TH-210, which provide access to a hydroelectric facility and the Hemlock Ravine Scientific and Natural Area.
Quick release emergency funds provided by the Federal Highway Administration will be used to reimburse the state for repairs that were done to resume essential traffic flow immediately after the flooding and prevent further damage. FHWA's emergency relief program provides funds for the repair or reconstruction of roads and bridges damaged by natural disasters or catastrophic events.
"By leaving work crews with a huge mess to clean up and a price tag to match, big storms like this one can cripple communities," said Federal Highway Administrator Victor Mendez. "These funds represent a down payment on our commitment to bringing back transportation in northeastern Minnesota."