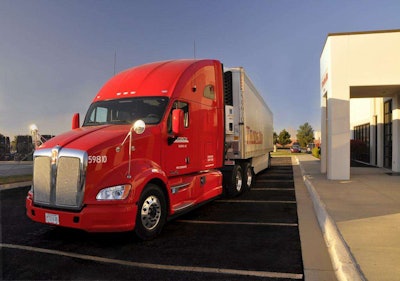 Eaton Corp. announced it recently received one of the company's largest single fleet orders for its lineup of fully automated UltraShift Plus transmissions. As part of a new truck order for 1,000 Kenworth T680 tractors, TransAm Trucking of Olathe, Kan., has specified Eaton's UltraShift Plus Linehaul Active Shifting model 10-speed transmissions on all of the power units. Terms were not announced.
"We have been 100 percent Eaton automation for more than 10 years," said Russ McElliott, president of TransAm Trucking. "The support that we have received from Eaton during that period has kept us coming back. We're looking forward to similar support with this next order of UltraShift Plus transmissions, which we believe are the best automated transmissions in the market."
The new vehicles and Eaton UltraShift Plus automated transmissions, with a torque rating of 1,650 lb.-ft., are being delivered monthly over the next three years. "The TransAm order demonstrates the growing interest and confidence among trucking fleets in North America with our newest generation of automated transmissions," said Ken Davis, president of Eaton's Vehicle Group. "TransAm is a leader in implementing technologies that enhance fuel economy and performance, and we are very excited with their choice of transmission on this significant new truck order."
The Eaton Linehaul Series of UltraShift Plus transmissions are designed for the ideal combination of fuel efficiency and performance. Available in overdrive and direct-drive models, the transmissions feature shift selection software that employs grade sensing, weight computation and driver throttle commands to make intelligent shift decisions for efficient and profitable vehicle performance.
UltraShift Plus automated transmissions are available in eight platforms and more than 50 models for linehaul and vocational use, all of which offer tailored performance and efficiency for a given application. All UltraShift Plus launches and shifts are automated with the use of a new self-adjusting electronic clutch actuator for faster, smoother engagements.
All of the new transmissions also share a Hill Start Aid feature to help prevent rollbacks on grades; an oil level sight glass to check fluid levels more easily; six- and eight-bolt power take-off availability at no extra cost; Automatic, Manual and Low mode selections; and a creep feature for improved maneuverability with continuous low-speed control.