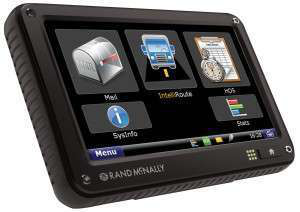 Rand McNally on Thursday, July 19, announced a new hardware design and upgrades for its top-end TPC 7600 mobile communication fleet management system, cutting the system's price to less than $1,200. The company said the new box, measuring one-third the size of the prior-generation mounted device, packs the same computing power and Windows 7 operating system, and the reduced size and high-sensitivity in-cab antenna design allows the unit to be installed in numerous locations in the front or back of the cab.
"The goal was to create a less costly product for our customers without losing the features," said Dave Muscatel, chief executive officer of Rand McNally. "In the process, we were able to refine the design, reducing the size of the box, simplifying installation and creating some valuable improvements."
The TPC 7600 is the sixth revision of the TruckPC platform, a fully-compliant electronic onboard recorder back-end monitoring via a Web portal, two-way communication with the ability to send e-mail attachments, onboard scanning and printing, in-cab video playback plus connectivity via cellular and Wi-Fi communications. The TPC7600 also supports satellite communications via an optional module.
Rand McNally also announced software enhancements to its one-year-old TND 760 software. New features include a Driver Vehicle Inspection Report; the inclusion of the "Oil Field Exception" in its Hours of Service application; the ability to provide routing information to the cab automatically from back-end dispatch systems; and map database and feature updates for its IntelliRoute GPS navigation software. The company said these new capabilities enable customers to move further away from paper reporting and tracking, providing necessary information to the back office in real time
Rand McNally also previewed a new Web-based portal designed to provide a single access point for fleet tracking, mapping, performance reporting and e-mail communication, as well as provides access to third-party applications. The Web portal is accessible for all customers of Rand McNally's mobile communication fleet management solutions that are are integrated with products from TMW Systems, McLeod Software and other transportation management systems.