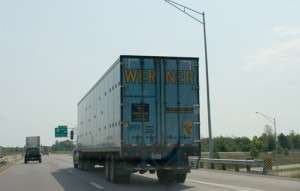 Werner Enterprises on Wednesday, July 18, announced improved earnings in the second quarter of 2012 compared to the second quarter of 2011, resulting from a seasonally improving freight market, operating margin expansion and logistics growth. Total revenues for the second quarter were $521.8 million compared to $515.9 million, while net income was $30.7 million compared to $27.5 million, an 11 percent increase.
Year to date, total revenues were $1 billion compared to $985.3 million for the same period in 2011, while net income was $51.9 million compared to $43.8 million, an 18 percent increase.
The Omaha, Neb.-based company said second-quarter 2012 freight demand demonstrated typical seasonal trends and improved into June similar to the second quarter of 2011, and that freight demand to date in July 2012 continues to show typical seasonal trends similar to July 2011. Freight demand trends are being helped both by supply side constraints limiting truckload capacity and demand generated by economic activity from our customers, according to Werner.
Werner said average revenues per total mile, net of fuel surcharge, rose 2.6 percent in the second quarter, while contractual rate increase percentage awards to date in 2012 are similar to the same period of 2011. The company said its truckload segment experienced a balanced freight market with respect to freight and trucks during the second quarter with normal seasonal strengthening at the end of the quarter, while spot pricing was slightly higher.
"We continue to be successful in this tightening capacity environment by working jointly with our customers to secure sustainable transportation solutions across all modes and to offset increased rates through enhanced optimization and transportation solutions whenever possible," the company said.