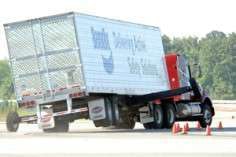 Bendix Commercial Vehicle Systems on Tuesday, July 24, endorsed the choice of full-stability technology by the National Highway Traffic Safety Administration in the agency's recent Notice of Proposed Rulemaking that would require stability technology for commercial vehicles.
Fred Andersky, Bendix director of government and industry affairs, presented comments on the company's behalf at NHTSA's public hearing for the NPRM held at U.S. Department of Transportation headquarters in Washington, D.C. The NPRM, published May 23, would require full-stability technology, known as Electronic Stability Control, on truck tractors and certain buses with a gross vehicle weight rating of greater than 26,000 pounds.
In his presentation, Andersky compared the performance and effectiveness of ESC and roll-only – or Roll Stability Control (RSC) – stability systems. Bendix develops and supplies full- stability systems, which it markets as Bendix ESP Electronic Stability Program, and roll-only systems to commercial vehicle manufacturers as part of a full suite of active and supportive safety technologies.
"As a business, our preference is to let the market decide technology choices," Andersky said. "It is our position, however, that if a stability control regulation is forthcoming, ESC is the best technology choice. It is the one stability technology that, in our expert opinion, delivers the power and performance needed to help commercial vehicle drivers mitigate both rollover and loss-of-control situations."
Andersky said two key factors – information and interventions – support the Bendix recommendation for ESC over RSC. "Extensive research and development – along with over seven years of solid customer experience – reinforces our position," he said.
DOT said NHTSA research shows the technology could prevent up to 56 percent of rollover crashes each year – the deadliest among all crash types – and another 14 percent of loss-of-control crashes.
NHTSA said an extensive research program to determine how available stability control technologies affect crashes involving commercial vehicles found ESC systems to be the most effective tool for reducing the propensity for heavy vehicles to roll over or lose control. ESC have sensors that monitor vehicle movement and steering to help mitigate rollover incidents by using automatic computer-controlled braking, and also aid the driver in addressing severe understeer or oversteer conditions that can lead to loss of control.
NHTSA estimates that a standard requiring ESC on the nation's large trucks and large buses would prevent up to 2,329 crashes, eliminate an estimated 649 to 858 injuries and prevent between 49 and 60 fatalities a year.
"We've already seen how effective stability control can be at reducing rollovers in passenger vehicles – the ability for this type of technology to save lives is one reason it is required on cars and light-duty trucks beginning with model year 2012," said NHTSA Administrator David Strickland. "Now, we're expanding our efforts to require stability-enhancing technology on the many large trucks, motorcoaches and other large buses."
While many truck tractors and large buses currently can be ordered with this technology, the proposed standard would require ESC systems as standard equipment on these types of vehicles. As proposed, the rule would take effect between two and four years after the standard is finalized, depending on the type of vehicle.
For more information on NHTSA's NPRM, go to www.regulations.gov; the docket number is NHTSA-2012-0065.