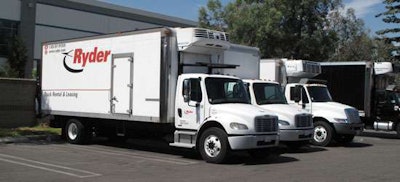 Ryder System Inc. on Tuesday, July 24, reported earnings from continuing operations for the 2012 second quarter were $46.8 million, up 14 percent from $40.9 million in the year-earlier period. Excluding a restructuring charge, tax law changes and acquisition-related transaction costs, comparable earnings from continuing operations were $51.3 million, up 7 percent from $47.8 million.
Ryder said the increase in comparable earnings primarily reflects the benefit of a Fleet Management Solutions acquisition and organic growth in the Supply Chain Solutions segment. Net earnings were $46.7 million versus $40.0 million.
Total revenue was $1.56 billion, up 3 percent from $1.51 billion, and operating revenue was $1.27 billion, up 6 percent compared with $1.19 billion, reflecting organic growth and the benefit of acquisitions. Ryder said its second-quarter results exceeded its most recent forecast due to better-than-anticipated retail and wholesale pricing on used vehicle sales, lower maintenance costs resulting from ongoing operational initiatives, as well as lower discretionary overhead spending.
"In the second quarter, Ryder continued to deliver solid year-over-year increases, including 9 percent higher earnings and 6 percent growth in revenue, despite an uneven and challenging demand environment," said Greg Swienton, chairman and chief executive officer of the Miami-based company. "In addition, we are pleased that our contractual full-service lease and supply chain offerings continued to perform well and in line with expectations. We have taken actions and made a number of timely adjustments that not only contributed to our results in the second quarter, but will better position our business going forward."