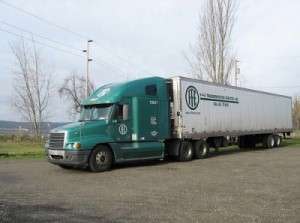 Frozen Food Express Industries on Tuesday, July 24, announced income from operations for the quarter ended June 30 was $1.6 million compared to a loss of $3.8 million in the same period of 2011. Net income was $1.1 million compared to a loss of $3.3 million.
Total operating revenue decreased 5.6 percent to $95.7 million, primarily due to the exit from the dedicated dry van services business. Total operating revenue, net of fuel surcharges, decreased 2.9 percent to $76.3 million.
"Excluding fuel surcharge revenue and the revenue contribution from dedicated dry van services, a business which we exited last year, we experienced a 5.7 percent revenue growth benefiting from both higher yields and pricing in our refrigerated services and the impact of the new water services revenue on our logistics services," said Russell Stubbs, president and chief executive officer of the Dallas-based refrigerated hauler. "Our LTL business continues to benefit from improved demand and pricing, producing 7.5 percent growth, the best second-quarter performance in five years."
For the six months ended June 30, total operating revenue decreased 5.1 percent, or $9.8 million, to $183.6 million compared to $193.4 million in the same period of 2011. Total operating revenue, excluding fuel surcharges, decreased 3.7 percent to $146.5 million from $152.1 million. Net loss was $4.6 million compared to a net loss of $11.2 million.
Stubbs said the company expects that quarterly results will continue to improve throughout the year. "The strategic initiatives that we have implemented are on track and yielding positive results," he said. "We have posted our first quarter of profitability since the economic recession began and are well positioned to build on the progress we have made."
Stubbs said that given the higher fixed-cost nature of the less-than-truckload business, incremental contribution from even modest improvements in revenue can have a significant impact on profitability and returns, which is evident in the company's improving results. "Combined with a growing contribution from our water transportation business, we are on track to restore the company to profitability this year," he said.