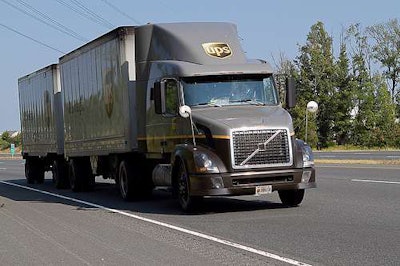 UPS on Tuesday, July 24, announced second-quarter 2012 net income of $1.116 billion on revenue of $13.349 billion compared to net income of $1.092 billion on revenue of $13.191 billion for the same period a year ago. U.S. Domestic operating profit expanded $122 million or 12 percent over the prior-year period.
"Increasing uncertainty in the United States, continuing weakness in Asia exports and the debt crisis in Europe are impacting projections of economic expansion," said Scott Davis, UPS chairman and chief executive officer. "Throughout its history, UPS has maintained its strength in all economic cycles, and we are making the adjustments necessary to respond to today's challenging conditions."
According to UPS, all Supply Chain and Freight segment business units contributed to the operating profit of $202 million, while operating margin achieved a new high of 8.9 percent. Total segment revenue declined 1.6 percent to $2.28 billion due to slowing International Air Freight demand and lower pricing.
While Forwarding continues to experience pressure on pricing, especially out of Asia, as excess capacity in the marketplace continues, operating profit was strong due to effective revenue management and cost controls, the company said.
The Distribution business experienced revenue growth driven by healthcare and e-commerce customers, but the continued investment in technology and infrastructure to support the company's healthcare initiative was a slight drag on operating profit.
At UPS Freight, revenue was flat as lower tonnage was offset by higher yields, but the business unit did experience operating profit improvement and margin expansion.
"The company's performance was mixed during the second quarter," said Kurt Kuehn, chief financial officer. "The results in the U.S. Domestic and Supply Chain and Freight segments were partially offset by the weakness in International. As we look toward the second half of the year, customers are more concerned as greater uncertainty exists. Additionally, economic growth expectations have come down."
During the quarter, UPS made several announcements regarding its proposal to acquire TNT Express. Plans for financing the purchase were disclosed in May, and the formal Offer Memorandum was filed in June. Earlier this month, the company announced it was moving to a Phase II review, as there are certain areas that the European Commission requires more time to analyze. UPS said it expects to close on the transaction during the fourth quarter.