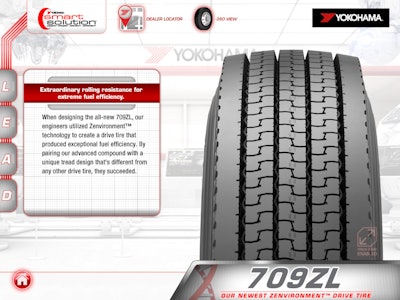 Yokohama Tire Corp. has launched an iPad app for the trucking tire industry. The Yokohama Commercial Tire Navigator is now available for free on iTunes at http://itunes.apple.com/app/yokohama-commercial-tire-navigator/id542098953?mt=8.
Based on YTC's iPad app launched in 2011 – the Yokohama Tire Explorer – the commercial version features product information in an interactive format, 360-degree tire photography, Yokohama's proprietary Fuel Savings Calculator and a Dealer Locator. The product lineup consists of a variety of Yokohama's commercial tires, including the Zenvironment line, as well as the company's seven U.S. Environmental Protection Agency SmartWay-verified tires.
"The Yokohama Commercial Tire Navigator is both an educational resource and tool for fleet owners and truck operators," said Alan Holtschneider, YTC manager of advertising, promotions and events. "With it, they can get an in-depth look at Yokohama tires and learn which one is best for various applications and road conditions. They can additionally learn about SmartSolution – Yokohama's innovative communication platform that's divided into four value propositions: longevity, efficiency, availability and dependability."
Holtschneider said that the app also allows the user to compare Yokohama's fuel-efficient tires against competitor tires and find out about potential savings in gas via the Fuel Savings Calculator. The Calculator returns results in terms of annual gallons of fuel saved, annual cost saved and carbon footprint reduced. "We are excited about providing the Yokohama Commercial Tire Navigator at no charge, and look forward to helping fleets and truckers manage their business more profitably," he said.