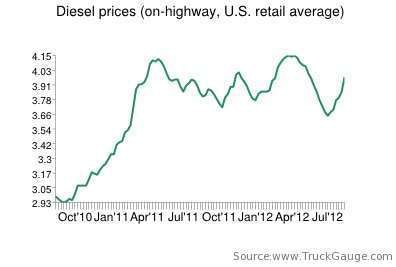 A fire last week at a major oil refinery in California appears to be one of the big factors behind a sharp rise in regional and national diesel prices during the week ended Monday, Aug. 13. The national average retail diesel price soared 11.5 cents to $3.96 a gallon, according to the U.S. Department of Energy's Energy Information Administration. It was the sixth straight increase for diesel prices and the largest one-week jump since the week ended March 7, 2011. The average price is 13 cents above the same week last year. That's the first time since April 16 that prices have been higher year over year.
A look at regional pricing generally confirms a suspicion that an Aug. 6 fire at a major refinery is to blame for much of the increase. The increases on the West Coast and in the Rocky Mountain states were substantially larger than those in the rest of the country. The West Coast excluding California saw the greatest increase: 19.5 cents a gallon. Average prices were up 19.3 cents on the West Coast and 19.2 cents in California, which had the nation's most expensive diesel on average at $4.215. In the Rocky Mountain states, the average diesel price was 14.5 cents higher. The next largest increase was 11.7 cents in the Midwest. The nation's least expensive diesel was in the Gulf Coast region, where the average price rose 10.4 cents to $3.856.
Complete diesel price information is available on EIA's Website.