Before buying, fleets must do their homework
By Jack Roberts
Over the past decade or so, a lot of things have changed in trucking. One of the most problematic for long-haul fleets is the proliferation of anti-idling laws that have sprung up in every state and in Canada. The initial push for these laws came from communities wanting to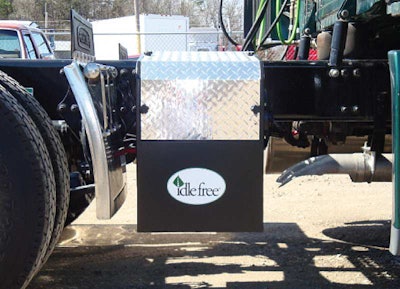 control both noise and air pollution. But a third component – rising diesel prices – has made fleets view what used to be an annoyance as a viable method for controlling fuel and maintenance costs.
But no matter what fuel prices do, exhausted drivers still need comfortable cab environments where they can relax and rest after long days behind the wheel. For that, sleepers need power – and with the primary diesel out of the picture, other options have come into play for fleets.
Reducing truck idling reduces dependence on foreign oil, increases trucking profits, improves air quality by reducing carbon dioxide emissions, provides safer and quieter driver living spaces and extends the life of trucks' main engines.
While truck stop electrification systems have seen mixed results, fleets view auxiliary power units as the solution of choice. To date, two different types of APUs have taken hold in the market: diesel-powered and battery-powered units.
While both have advantages and disadvantages in terms of operation, they also do a good job of providing drivers with a comfortable overnight environment.
Diesel or battery?
When it comes to comparing diesel and electric APUs, the choice depends on the fleet's specific needs.
"APU performance depends on the driver, the season and the climate – as well as whether there is major solar load to contend with," says Robert Hopton, chief executive officer of electric APU manufacturer Idle Free Systems.
The choice between a diesel- or electric-powered unit depends on many factors.
Dean Lande, APU business manager for Carrier Transicold, agrees. For fleets that travel through the hotter southern states, look for an APU that will provide at least eight hours of continuous cooling.
"Battery-powered systems tend to underperform diesel APUs in extreme heat," Lande says.
In most situations, an APU can heat and cool the bunk while supporting the driver's hotel needs. But if that driver is sitting in Phoenix in the middle of the summer, "there really isn't an APU that could compete with idling the truck," Hopton says.
The preferred type of anti-idling device is as varied as the owners themselves, with some opting for shorepower and others wanting the independence of fully contained on-truck power and HVAC supply. When considering an APU purchase, fleets must consider reliability, initial cost, fuel usage and driver climate satisfaction.
While initial costs can be high, they are offset by fuel savings, improved driver safety and reduced engine wear and maintenance costs, says Jill Tolstedt, sales and marketing manager for Tridako Energy Systems' PowerCube APU. Still, careful consideration before purchasing a unit is paramount.
"All idle-reduction equipment is going to save money on fuel, but it's going to be very frustrating in the long term if the driver can't sleep at night because of low air conditioning output or a battery-operated AC that runs out of power," Tolstedt says.
An APU's essential capabilities include powering air conditioning and heating for the sleeper cab and handling household accessories without draining the truck's batteries.
"If drivers watch TVs when resting or store fresh food in onboard refrigerators, it's important to specify APUs that provide enough power to run these devices as well," Lande says.
Other considerations are whether a diesel unit can charge the truck battery and heat the truck engine, which helps during the winter.
Fleets also must determine whether the unit is compatible with shorepower, which recently got a boost in 2009 when the U.S. Department of Energy created the Shorepower Truckstop Electrification Program as part of the American Recovery and Reinvestment Act.
Under this program, DOE provided a grant funding commitment of $22.2 million for the development of about 1,250 electrified truck parking pedestals at 50 locations along the busiest freight movement corridors nationally, as well as 5,000 idle-reduction equipment rebates for qualifying upgrades – or shorepower – that allow long-haul trucks to plug into the nation's power grid while at rest.
"This project is the first nationwide idle-reduction program available to the trucking industry," says David Hancock, CEO of APU manufacturer Hodyon.
For any fleet considering an APU purchase, the idle-reduction equipment program provides a 20 percent rebate for any shorepower-compatible APU. Upon application approval, they have 120 days to install their APU.
A fleet should consider several major factors when considering an APU purchase – with economics at the top of the list. Potential buyers should do their research into exactly what type of APU is going to be the most effective for the long haul – and not simply buy the cheapest unit available.
"They should ask themselves things like 'Will this APU require regular maintenance?' and 'Will there be fuel costs associated with operating the APU?' " Hancock says. "There really isn't a standard configuration for APUs because no two APUs are alike."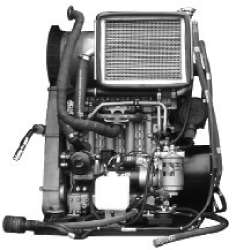 Hancock describes many electric APUs as "literally air conditioners only. They start with air conditioning and offer bolt-on features, like a heater or electrical bunk package for hotel loads."
Rising fuel prices are driving the adoption of all-electric APUs among fleets. "This is being driven mainly by economics," Hopton says.
"It is less expensive to run an electric APU because you are not burning diesel fuel, and you avoid the maintenance costs associated with a diesel APU," he says. "Plus, it is a more environmentally friendly solution, and many fleets want to be as green as possible."
While using any type of APU moves a fleet in that direction, an electric APU completely eliminates the need to run any engine, and since there is no cost to operate the air conditioning, there are no required maintenance expenses.
"The ongoing operating costs are negligible compared to a diesel APU, which requires in the neighborhood of 600 gallons of diesel fuel a year and regular maintenance on the diesel engine," Hopton says.
Gary Parks, CEO for Parks Industries, counters by noting that his company's HP2000 unit burns about 0.1 gallons of diesel fuel per hour.
"Compare that to a truck driver's average of 1 gallon or more per hour while idling, and very quickly you can see that an APU is a great investment with a quick return," Parks says.
Finding help
APUs are an aftermarket solution to a problem that didn't exist a few years ago. Truck OEMs today are making great strides in offering proprietary APUs in new trucks, or at the least providing space and installation considerations in their designs to accommodate aftermarket products.
But fleets operating older vehicles have to deal with packaging and installation issues, as well as weight and routing requirements, to accommodate what essentially is a new HVAC system for the truck.
"Our observation is that the majority of today's APU sales are linked to a new truck purchase," Hopton says. That's because an APU's cost can be wrapped into the truck's financing.
"Capital is still tight in the market in general, and if you don't have a good credit score, it is hard to get affordable financing," he says.
However, grants are available to help offset some of the costs; some are available nationally through Cascade Sierra Solutions, while others are administered by individual states. The U.S. Environmental Protection Agency also offers low-interest financing for agency-verified technology.
APUs typically weigh between 300 and 600 pounds and have a power output of 110V, either inverter-based or generator-powered, and after installation cost anywhere from $8,500 to $13,000.
Typical installation takes anywhere from five to 24 hours depending on the shop's expertise and speed, as well as the complexity of the APU's design.
The best location is determined by the available space on a truck and can be problematic depending on vehicle make and model year.
"With most trucks, there are not that many options when it comes to APU placement," Parks says. Most of his company's HP2000 units can be mounted on the frame rail on the passenger side behind the cab.
"On some trucks, this space is not available, so the dimensions of our cabinet allow it to be placed under the passenger door if necessary," Parks says.
Recent APU design changes have streamlined the installation process, allowing more time for post-installation quality checks and owner instruction.
Most installations now cost less than $1,200, especially as owners work with installation centers to do advance preparation in the bunk area.
"The frame rail is the ideal location to install an APU, as it's close to the fuel tank and the bunk area of the truck cab," Tolstedt says.
After the sale
Another consideration fleets must make during the APU selection process is the maintenance demands that the new units will place on their shop operations and technicians.
Like any vehicle system, APUs require basic preventive maintenance to perform to their full potential and reach high-hour service lives. Luckily, maintenance on the majority of APU designs is straightforward.
On one end of the spectrum, electric APUs require little or no routine maintenance. Hopton says his company's Idle Free electric APU, if installed properly, requires no regular scheduled maintenance.
"What we would recommend is a five-minute walkaround to check wire and hose connections when the truck is brought in for its regular engine maintenance," Hopton says.
On the other hand, diesel-powered APUs require regular maintenance checks, but those easily can be worked into the truck's routine maintenance schedule.
For a new unit, the first oil change is at 500 hours, and all filters – fuel, air and oil – should be changed at 1,000 hours. Daily checks include coolant level, oil level and a walkaround inspection. Regular service is recommended every 500 hours, as well as a thorough annual inspection.
Drivers away from home need to conduct quick daily maintenance checks to ensure peak APU performance.
"This includes simple checks of fluids and monitoring of the same things they do with the truck, looking for any obvious signs of leaks, odd noises or anything that might cause concern," says Paul Barbaro, APU product manager for Thermo King.
Service should be performed by an authorized dealer, which raises an additional key point: When evaluating APU options, consider the availability of technical support no matter where the unit goes. For fleets that cover large service areas, it's best to choose manufacturers that provide nationwide service support.
"This way, if an APU needs servicing while a driver is en route, it should be easy to find APU technical support along the way," Lande says.