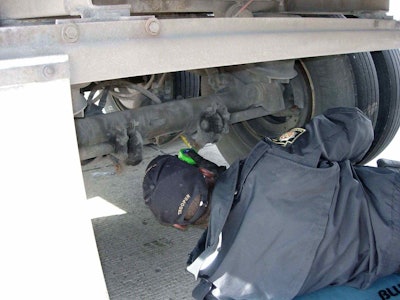 According the Commercial Vehicle Safety Alliance, inadequate or improper brake maintenance is the leading reason year after year for vehicles to be placed out of service during its annual Brake Safety Week safety enforcement and education campaign focused on commercial truck and bus braking systems. Representing about half of all out-of-service violations, brake-related maintenance issues are predominantly a result of lack of awareness or proper training for maintenance personnel, drivers and motor carrier fleet personnel in general, CVSA says.
While the majority of the estimated five million commercial trucks on the road are well maintained by responsible motor carriers, there are hundreds of thousands of commercial vehicles that are neglected and poorly maintained. These vehicles, especially, are found by inspectors at roadside throughout the year having inoperative brakes, air leaks, missing components, malfunctioning ABS, out-of-adjustment pushrod stroke, worn linings and the like.
During this year's Brake Safety Week Sept. 9-15, particular attention is being paid to braking systems, and inspectors across North America participate to both enforce the safety regulations and educate drivers, maintenance personnel and other fleet personnel through numerous efforts coordinated by federal, state and local agencies and industry. CVSA anticipates enforcement agencies inspecting 30,000 vehicles this week.
"Properly maintained brakes are a driver's critical safety net for avoiding crashes or a catastrophic event, whether in normal day-to-day driving or in emergency-stop situations," said Stephen Keppler, CVSA executive director. "Brake Safety Week's focus is to highlight the importance of proper brake adjustment and maintenance through enforcement and educational outreach, both for drivers and maintenance personnel. Our primary interest is for the safety of drivers, passengers, pedestrians and other people working or living in or around trucks and buses on our nations' roadways."
Inspections and educational activities will be conducted throughout the week at truckstops, weigh stations and other locations. Brake Safety Week is part of CVSA's ongoing Operation Air Brake program, which is committed to making commercial vehicles safer by emphasizing brake system safety and working with manufacturers, motor carriers and federal, state and local jurisdictional enforcement agencies in the U.S. and Canada to achieve industrywide proper maintenance and regulatory compliance.
The program, which originated in Canada in 1998 and since has expanded throughout the United States and Canada, uses a Selective Traffic Enforcement Program (STEP) model, as has been used successfully in other areas of traffic safety (most notably seatbelt usage). In addition to enforcement, the program works to develop educational materials and seek ways to inform drivers and technicians about proper brake function and maintenance. The program develops and promotes brake maintenance guides, brochures, Web-based training and handbooks. CVSA maintains a growing menu of enforcement tools and educational materials available at www.cvsa.org and on the Operation Airbrake Website, www.operationairbrake.com.