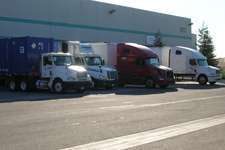 TransCore on Wednesday, Sept. 12, announced that its DAT North American Freight Index outpaced August 2011 volume by 8.4 percent, the sixth time in 2012 that volume has exceeded prior-year levels. Freight volume on the spot market, month-over-month, edged above July by 1.1 percent, following a typical seasonal pattern.
Truckload freight rates on the spot market continued their expected seasonal decline in August from their June peak; however, rates across all equipment types were higher year-over-year. Rates for dry vans declined 5.0 percent compared to July but were up 2.3 percent versus August 2011; Refrigerated van ("reefer") rates slid 4.7 percent but increased 5.8 percent year-over-year; and flatbed rates dipped 1.1 percent but rose 2.9 percent when compared to the same month last year.
The monthly DAT North American Freight Index reflects spot market freight availability on TransCore's network of load boards in the United States and Canada. Rates are derived from the DAT Truckload Rate Index and do not include fuel surcharges. Spot market rates are paid by brokers and third-party logistics providers to the carrier.