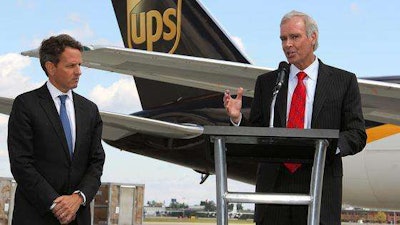 UPS Chairman and CEO Scott Davis this week called on leaders in Washington, D.C., to prepare a bipartisan debt reduction plan by January, saying the nation's economy is being held back by its debt load and the uncertainty of fiscal policy. "It's not too late to act," asserted Davis, adding a debt reduction plan should be drafted now for immediate consideration when the newly elected Congress returns in January.
"I believe it's realistic to have it approved early next year," said Davis. "If our leaders work together and can compromise, we can deal with these problems and get our nation on a sustainable fiscal path." In a speech to a gathering of Washington state business leaders, the UPS CEO described the United States as having reached a crossroads.
"At this moment, our country's board of directors – the president and Congress – is facing not one but two self-inflicted crises: the impending fiscal cliff and the crushing trade imbalance," Davis said. "Because Congress couldn't agree on common-sense fiscal reforms last year, we now face a double whammy of potential shocks to our economy," he added, citing automatic spending cuts and tax increases that are slated to kick in at the beginning of 2013.
Uncertainty about the looming "fiscal cliff" is causing many businesses to delay spending decisions, Davis said. "When companies don't spend and hire, the business engine driving our country sputters along, and the economy stagnates," he said, adding that the gridlock in Washington fosters doubt about the near-term future in the minds of business leaders. "We need a predictable environment in which we can plan, invest, hire, grow, trade and prosper," Davis said.
A former chairman of the Atlanta Federal Reserve's Board of Governors and a member of the CEO Fiscal Leadership Council, Davis also is supporting a new campaign called "Fix the Debt," an effort led by former U.S. Sen. Alan Simpson and President Clinton's Chief of Staff Erskine Bowles.
Davis supported the work of a bipartisan debt commission led by Simpson and Bowles that called for lower tax rates, fewer deductions and common sense entitlement reform. While no plan will ever be perfect and agreed upon by all, bipartisan compromise must be achieved to reach a deficit reduction of at least $4 trillion, he said.
Davis also called on U.S. leaders to demonstrate stronger leadership on global trade. While he applauded recent deals with South Korea, Colombia and Panama, he said "These recent trade deals should be the first of many, not the last in memory." The 19 trade agreements currently in effect are inadequate, he said: "Trade has always been the world's most powerful engine of growth, job creation and prosperity."
During his remarks, Davis told the story of Jim Casey's founding of UPS in the Seattle area in 1907 as a small bicycle messenger service, describing in some detail the company's evolution into a global logistics leader that delivers an average of 15.8 million packages a day in more than 220 countries and territories. He contrasted the company's transformation over the past 105 years to the federal government's rigid and ideological approach to dealing with today's challenges.
"I want our elected officials in Washington, D.C., to start running this country the way we run our companies – with real leadership, courage, discipline and foresight," Davis said. "Simply put, we need our representatives to reach out more and to dig in their heels less. Our country needs pragmatic leaders who work together to solve problems."