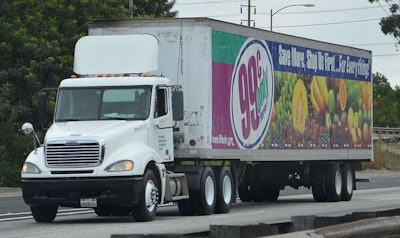 Ryder System announced it has been selected by 99 Cents Only Stores to provide a full-service lease for 40 compressed natural gas tractors to replace diesel tractors in the retailer's fleet. The natural gas-powered vehicles were made available through Ryder's natural gas vehicle project agreement with the San Bernardino Associated Governments in Southern California and will replace the majority of the retail chain's current delivery fleet. Ryder said the contract with 99 Cents Only Stores is its single-largest lease agreement for CNG vehicles to date.
"Some of the heavy-duty natural gas vehicle technologies available on the market today can be just as effective as the more traditional diesel engines but also provide a significant environmental and cost benefit," said Dennis Cooke, Ryder's president of Global Fleet Management Solutions. "We're honored to have been chosen by 99 Cents Only Stores as their fleet partner and look forward to working with them to help them reduce their carbon footprint and achieve their cost reduction goals."
This deal, made possible by the $38.7 million Ryder/SANBAG project, is part of a public/private partnership between the U.S. Department of Energy, the California Energy Commission, the Southern California Association of Governments Clean Cities Coalition and Ryder. The project includes 202 natural gas vehicles to be deployed into Ryder's Southern California operations network, upgrades to three maintenance facilities for the proper servicing of natural gas vehicles and the construction of two fueling stations.
99 Cents Only Stores already has taken delivery of 31 CNG vehicles and will place the remaining vehicles into service over the next several months. The 40 CNG units will operate throughout the Greater Los Angeles area, carrying out store deliveries and vendor pickups, and will receive ongoing maintenance from Ryder at one of its local facilities.
"With the support from SANBAG to help offset some of the acquisition costs, we'll be able to take advantage of natural gas as a fuel source, which is a less expensive, cleaner and less volatile fuel than diesel," said Eric Schiffer, chief executive officer of 99 Cents Only Stores. "Not only will this allow us to have a quieter, cleaner-burning and more neighborhood friendly fleet, it will also help us improve the efficiency of our transportation operations, which is an important part of our strategy to continue providing our customers with great value."