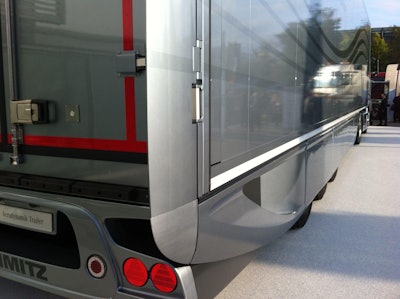 Bridging the disconnect between trailer manufacturers and OEMs when it comes to combination aerodynamics, Daimler on Tuesday, Sept. 18, launched its "Aerodynamics Truck & Trailer" initiative consisting of two components: the new Mercedes-Benz Aerodynamics trailer, a long-haul tractor unit that according to Daimler can save about 528 gallons (2,000 liters) of diesel and reduce CO2 emissions by five metric tons annually; and the Mercedes-Benz Aerodynamics truck – a Mercedes-Benz Actros with StreamSpace cabover – for long-haul and regional operations said to save between 79 and 158 gallons (300 to 600 liters) of diesel annually and up to 1.5 metric tons of CO2.
"We will have to come to terms with [higher fuel prices]," said Georg Weiberg, head of truck product engineering for Daimler Trucks. "All the experts expect fuel prices to rise even further in the medium to long term. On the other hand, while we cannot do much about fuel prices, we can at least influence fuel consumption."
The Aerodynamics trailer is designed to lower the air resistance of the entire tractor/semitrailer combination by about 18 percent, resulting in 4 to 5 percent lower fuel consumption in real-world conditions.
The Actros is equipped with an air deflector on the roof, cab side deflectors and side trim panels between the axles. The trailer is based on a Schmitz Cargobull 44-foot (13.6-meter) refrigerated trailer with a refrigeration unit at the front end. The trailer side panels feature an opening at the rear end that steers the air in the direction of a rear diffuser that surrounds the rear underride guard.
The Aerodynamics trailer also features a "boat tail," a rear taper designed to improve the air resistance of the entire tractor unit by 7 percent.
Later this year, Mercedes-Benz will test the Mercedes-Benz Actros and Aerodynamics trailer combination with select customers in everyday haulage operations. The company plans to bring the product to the European market in the near future, but there's no word on when – or whether or not – it will become available in the North American market.