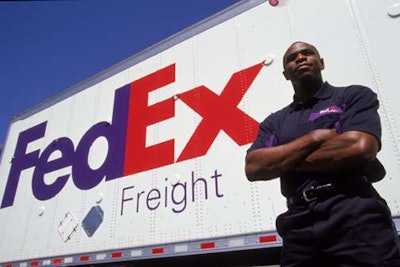 FedEx Corp. on Tuesday, Sept. 18, reported revenue of $10.79 billion for the first quarter ended Aug. 31, up 3 percent from $10.52 billion the previous year. Operating income was $742 million, up 1 percent, with an operating margin of 6.9 percent, down from 7.0 percent. Net income was $459 million, down 1 percent from $464 million.
The FedEx Freight segment reported revenue of $1.40 billion, up 5 percent from $1.33 billion, and operating income of $90 million, up 114 percent from $42 million, with an operating margin of 6.4 percent, up from 3.2 percent. Less-than-truckload average daily shipments increased 4 percent due to an increase in customer demand for the FedEx Freight Economy service offering in all lengths of haul, while LTL yield increased 2 percent due to improvements in FedEx Freight Economy yields, the company said.
FedEx Freight operating income and margin increased primarily due to profitable volume growth, higher yield and continued improvements in operational efficiencies, but those improved segment results and the continued strong performance at FedEx Ground were more than offset by lower demand for priority services at FedEx Express, the company said.
"Weakness in the global economy constrained revenue growth at FedEx Express during our first quarter and affected our earnings," said Frederick Smith, FedEx Corp. chairman, president and chief executive officer. "Meanwhile, our FedEx Ground and FedEx Freight segments performed well, with both improving their year-over-year operating margins. We are taking further actions to reduce costs and adjust our networks to match current and anticipated shipment volumes."
FedEx Express will increase shipping rates by a net average of 3.9 percent for U.S. domestic, U.S. export and U.S. import services effective Jan. 7, 2013. The full average rate increase of 5.9 percent will be offset partially by adjusting the fuel price threshold at which the fuel surcharge begins, reducing the fuel surcharge by 2 percentage points. The FedEx Ground and FedEx SmartPost pricing changes for 2013 will be announced later this year.
"Earnings for the first quarter were below our expectations as weak global economic conditions dampened revenue growth, drove a shift by our customers to our deferred services and outpaced our near-term ability to reduce FedEx Express operating costs to match demand levels," said Alan Graf Jr., FedEx Corp. executive vice president and chief financial officer.