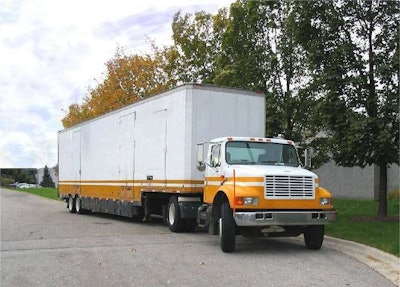 The Federal Motor Carrier Safety Administration on Wednesday, Sept. 19, provided notice of its policy concerning enforcement of its household goods motor carrier and broker regulations. FMCSA said it may take enforcement action when a HHG motor carrier or broker knowingly and willfully fails, in violation of a contract, to deliver or unload at the destination a shipment of HHG for which charges have been estimated and for which payment has been tendered.
According to FMCSA, a motor carrier or broker found holding a HHG shipment hostage may be subject to suspension of registration for a period of not less than 12 months to not more than 36 months. The agency said it would publish a notice in the Federal Register on this policy.
FMCSA's notice came one day prior to a Senate committee hearing targeting household goods moving fraud. An investigation by the Senate Committee on Commerce, Science and Transportation found a growing trend among Internet-based moving brokers and carriers to provide a price quote without visiting a home to estimate a move's real cost and later hold the goods hostage and demand huge markups before releasing them.
"Thousands of consumers are often stuck at the mercy of abusive moving companies at one of the most vulnerable times in their lives," said Commerce Committee Chairman Jay Rockefeller (D-W.Va.).
Probes by the U.S. Department of Transportation's inspector general "have shown that the dishonest broker, with full knowledge, provides customers a low-ball estimate, knowing the carrier will grossly inflate it once the goods are loaded on the truck," said Timothy Barry, principal assistant inspector general for investigations.
The inspector general has 14 open investigations involving companies operating under 108 different names, Barry said. That covers more than 3,800 potential victims and about $1.9 million in damages, he said.