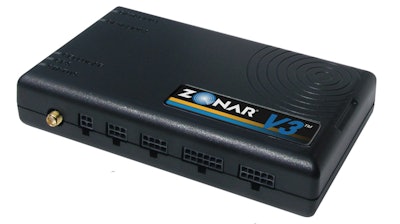 Zonar, a provider of electronic fleet inspection, tracking and operations systems, on Monday, Oct. 1, introduced its next-generation V3 telematics platform designed to collect data directly from the vehicle ECM, integrate that information with satellite GPS readings and transmit the data over 3G networks for immediate, more precise reporting.
The new V3 is designed with GPS tracking, 3G high-speed data connection, a built-in accelerometer, Wi-Fi and power sleep mode to provide fleet managers with essential information to help make operational decisions, improve data and tracking accuracy and increase overall safety and efficiency.
"The V3 takes our comprehensive vehicle tracking and diagnostics solutions to a whole new level," said Mike McQuade, chief technology officer at Zonar.
With parallel time and frequency search capabilities designed to find satellites instantly, anti-jamming technology and low power consumption, the GPS receiver built into the V3 is designed to provide position accuracy even in challenging environments. Additionally, the V3 combines GPS and ECM data to help provide geospatially precise vehicle performance metrics.
A three-axis accelerometer is designed to sense changes in gravitational force, including front-to-back, side-to-side and up-and-down to accurately determine motion and orientation to determine hard braking, hard acceleration and hard cornering – three operating behaviors that impact fuel efficiency and safe operation.
The V3 also features real-time vehicle diagnostics to help improve vehicle uptime and maintenance operations; fault code data is delivered instantly to fleet managers and dispatchers, and fleets can schedule shop time and maintenance resources in advance to reduce vehicle downtime. All performance and diagnostic information is available through Zonar's Web-based Ground Traffic Control application.
"The redesigned V3 adds a new facet to operational monitoring and performance," said McQuade. "Because it utilizes the 3G network, the V3 not only captures the most robust and reliable data set available, but it gets that data in front of those who need it much more quickly and reliably than ever before."