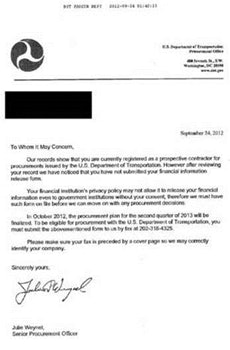 The Federal Motor Carrier Safety Administration on Friday, Sept. 28, announced that motor carrier officials are being targeted by fraudulent U.S. Department of Transportation letters attempting to obtain banking information.
The letters, dated Sept. 24, are being distributed largely by fax and appear to be from the U.S. Department of Transportation Procurement Office. They are signed by a fictitious name – Julie Weynel, senior procurement officer – who is not a DOT employee.
FMCSA said motor carrier officials and their employees – as well as government and law enforcement officials – should be vigilant and on the lookout for fraudulent attempts to gather financial or other personal identifiable information data by fax, e-mail or telephone.
Requestors should be verified and authenticated before such data is provided, FMCSA said. Additional information is available at www.dot.gov/ost/m60/fraudulent_letters.htm and www.oig.dot.gov/fraud-alert.