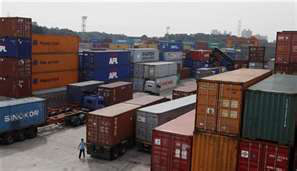 Despite economic uncertainty at home and abroad, U.S. high-tech executives' confidence in the future of global trade and U.S. exports has grown significantly over the past two years, according to a UPS survey released Monday, Oct. 1.
Citing legislative changes and rising labor rates abroad as factors, 85 percent of U.S. high-tech executives surveyed believe the Obama administration's National Export Initiative goal to double exports by 2014 is either "very likely" or "somewhat likely" to be achieved versus 40 percent who believed so just after the goal was set two years ago.
The findings come from UPS's annual "Change in the (Supply) Chain" survey conducted by IDC Manufacturing Insights and targeting U.S.-based senior-level supply chain decision makers in the high-tech/electronics industry. The survey is designed to uncover top business and supply chain trends driving change in the high-tech/electronics industry. The 2012 survey focused specifically on exporting and was conducted in May through July.
Among executives who believe the export goal is achievable, nearly one in three attribute this to the steady increase in disposable income in emerging markets. Another third cite rising labor rates in traditional low-cost manufacturing countries as a primary factor, and about one in five cite legislative changes such as recent free trade agreements in Asia. A large majority, 81 percent, anticipates recent free trade agreements in Asia will increase their company's imports and exports to and from the region.
Although North America is anticipated to remain the largest high-tech consumer market over the next three to five years, demand for high-tech products is expected to decrease by seven percent in the region, while demand in other markets is expected to increase – in some regions by double-digit percentages.
"The anticipated shift in consumer market demand for high-tech goods brings opportunities and challenges for high-tech companies," said Ken Rankin, high-tech marketing director at UPS. "Global demand will continue to grow in new and existing markets, causing supply chain executives to shift not only their fulfillment operations but also their sourcing strategies to serve those markets. We have already begun to see such a shift as companies look to India and Brazil as key markets not only for fulfillment but for production as well."
Regarding the sizable increase in optimism around the 2014 U.S. export goal, not only do 85 percent believe the goal is attainable, but 21 percent believe it is "very likely" to be achieved. In addition, a full 74 percent of high-tech executives expect to see growth in the individual export of their company's products within the next two years.
When asked why they anticipate global trade growth, 81 percent of U.S. executives cite free trade agreements in Asia as a key factor. Respondents also cite emerging market economies and their growing middle class with an ever-increasing appetite for technology products.
Assessing individual opportunities for international trade growth, only about one in four high-tech executives believe their company's import/export capabilities are best-in-class, and 72 percent report that opportunities for improvement exist. Of that group, 22 percent report that significant opportunities remain for their company to improve its import/export capabilities.