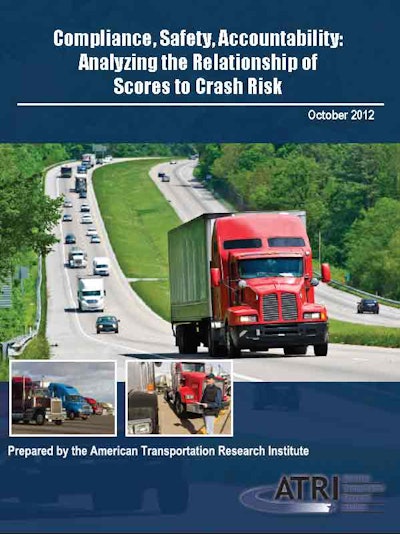 The American Transportation Research Institute on Monday, Oct. 1, released a report examining the relationship between motor carrier Compliance, Safety, Accountability scores and actual crash involvement and determining that two CSA scoring measures are failing to indicate a carrier's crash risk accurately.
ATRI analyzed the Federal Motor Carrier Safety Administration's Safety Measurement System and crash data from a sample of 471,306 motor carriers with evidence of recent activity in the past 24 months, focusing on the five BASICs available to the general public.
ATRI said the research expanded upon previous investigations by introducing a sophisticated statistical analysis that provides more accurate and direct results, According to ATRI, the research finds a strong safety basis for the Unsafe Driving, Fatigued Driving and Vehicle Maintenance BASICs; partial support for the Controlled Substances and Alcohol BASIC; and no support for the Driver Fitness BASIC.
"ATRI's research identifies a key weakness in FMCSA's Safety Measurement System," said Scott Mugno, vice president of safety for FedEx Ground, who testified on behalf of the American Trucking Associations at a congressional subcommittee on CSA last month.
"The conclusions in ATRI's study support what many motor carriers have found to be true in their operations – namely, that scores in the CSA's Driver Fitness BASIC do not bear a statistical correlation to crash risk," Mugno said. "However, the industry has always supported CSA where it does reduce crash risk, and ATRI's study validates that there are portions of CSA that are working as intended."
Recognizing the flaws in current CSA profiles, ATRI said its report proposes an alternative method for communicating fleet safety information to the public in a way that more accurately reflects carrier safety performance.
FMCSA, in response, said that based on its preliminary review of the report, "ATRI's findings in many ways confirm the effectiveness of the CSA program." The agency, however, said it would conduct an in-depth review of the report and "carefully consider this information."
A copy of ATRI's report is available at www.atri-online.org.A copy of ATRI's report is available at www.atri-online.org.
In testimony before the House Transportation and Infrastructure Subcommittee on Highways and Transit, ATA called for changes to make the CSA program better able to achieve its stated goals. "ATA has been supportive of the objective of CSA – to reduce commercial motor vehicle crashes, injuries and fatalities – since the program's inception," Mugno said at the hearing. "However, ATA has significant concerns with the program in its current form."
Mugno cited issues in data weakness that prevent FMCSA from having enough information to evaluate carriers properly – as well as methodology issues that count all crashes, regardless of preventability, against a carrier – as among the most significant issues with CSA. Mugno said that while ATA continues to support CSA's stated goal, FMCSA needs to take several steps to fix the program.
"First, FMCSA must acknowledge that CSA scores are often not a reliable predictor of future crash risk," he said. "Second, the agency must confirm that CSA's highest priority should be to focus on the least safe carriers. And finally, FMCSA must establish a specific plan to develop and implement the changes necessary to ensure that the system functions as intended."
CSA scores hurt trucking companies with good operating histories, lawmakers at the hearing said, citing complaints they've received from fleets. Brokers, shippers and insurers are less likely to do business with carriers with bad scores even if they're based on paperwork violations, they said.
"While the old adage of 'garbage in, garbage out' does not completely apply here, there are questions about the reliability and integrity of the data," said U.S. Rep. Nick Rahall (D-W.Va.).
CSA data and ratings have been validated by the University of Michigan's Transportation Research Institute, FMCSA Administrator Anne Ferro testified at the hearing. Carriers with the worst scores have crash rates that double those of the average company, Ferro said.