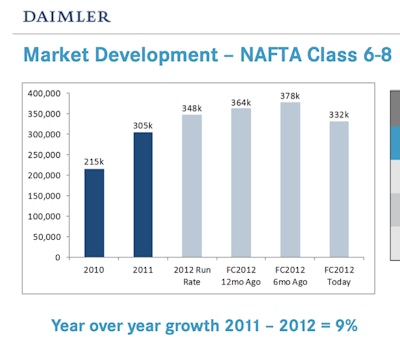 At a press briefing during the 2012 American Trucking Associations' Management Conference & Exhibition, Daimler Trucks North America on Monday, Oct. 8, revised its overall NAFTA 2012 Class 6-8 truck sales forecast downward from 378,000 units to 332,000 units, but noted that figure still represents a 9 percent growth from 2011.
Martin Daum, DTNA president and chief executive officer, said year-to-date the company has achieved a 33.4 percent market share, up 1.6 percent from 2011. "[2012] could have been a tremendous year for us, but it's still too good to complain," said Daum, referring to earlier forecast numbers.
"The good thing is DTNA's growth is outpacing the market's [growth] – our sales went up by almost a third compared to last year," said Andreas Renschler, member of the Daimler AG Board of Management and responsible for Daimler Trucks and Buses.
Renschler said the company will conduct a limited number of shutdown days at DTNA sites in October to adjust production schedules to recent market developments, including "unstable demand due to volatile freight trends in the U.S., higher diesel prices and a slower overall economy," said Renschler.
Looking long-term, DTNA expects NAFTA Class 6-8 truck sales to average 375,000 units per year from 2010 through 2019, which would represent a 3.5 percent increase from the previous decade and an 8.3 percent increase from 1990 through 1999.
"The good news is the good years of the next decade are ahead of us – the question is will they come?" said Daum. "We have a cautiously optimistic view of 2013, and then at some point, demand should pick up. We don't know when the next peak starts – we only know that it will happen one day overnight."
Looking at the U.S. Class 8 truck market, DTNA revised its earlier forecast downward from 219,000 units to 185,000 units, which still represents a 8.2 percent increase from 2011 and a 73 percent increase from the 107,000 units sold in 2010.
Daum shared DTNA's goals for continued market share growth in 2013, including establishing the forthcoming Cascadia Evolution as the industry benchmark by which all other trucks are measured; swinging the demand from manual to the DT12 automated transmission; and "pulling away" from the competition in market share for Class 6-7 trucks.
Year to date, Daum said, DTNA has overtaken rival Navistar in the U.S. Class 6-7 truck market with a 37.1 percent market share, up 2.1 percent from yearend 2011.