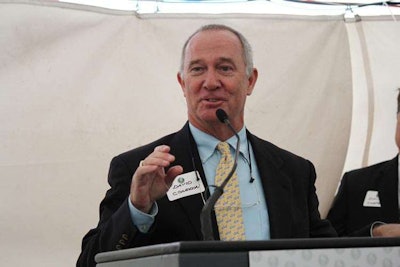 Old Dominion Freight Line Inc. on Wednesday, Oct. 10, completed the expansion of its Indianapolis Service Center with a daylong celebration that included a rolling museum highlighting the company's 78-year history.
Old Dominion said its Indianapolis Service Center is one of the largest in the company's network and serves as the regional hub for the Midwest. Old Dominion said it invested millions to expand the Indianapolis Service Center to 325 doors and hired dozens of new employees in recent months.
"We undertook this expansion of our center in Indianapolis because it is an important location within our nationwide network," said David Congdon, president and chief executive officer. "With this new facility, we will continue to grow our reach and to serve our customers by our commitment to premium service. We are able to continue our tremendous growth because of the hard work and dedication of every member of the Old Dominion family."
The rolling museum houses interactive displays, historical artifacts and scaled models in a custom-built trailer. The museum provides an inside look into the Thomasville, N.C.-based company's 78-year history, which started with a single truck and today is one of the largest less-than-truckload motor carriers in the United States, employing more than 14,400 people globally.