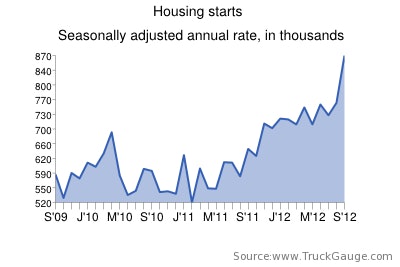 Housing starts and permits authorized for future residential construction in September were both at their highest levels since July 2008, according to initial figures from the U.S. Census Bureau and Department of Housing and Urban Development.
Privately-owned housing starts in September were at a seasonally adjusted annual rate of 872,000 — 15 percent above August and 34.8 percent above September 2011, according to preliminary data. Single-family housing starts in September were at a rate of 603,000 — 11 percent above the revised August figure.
Permits authorized for privately-owned housing units were at a seasonally adjusted annual rate of 894,000 — 11.6 percent above August and 45.1% above the September 2011. Single-family authorizations in September were up 6.7 percent over August.
The improvement over August was more uniform across the United States than has typically been the case recently. With the exception of a 5.1 percent drop in housing starts in the Northeast, housing starts and permits were higher in all regions in September than in August. Starts were up about 20 percent in both the South and the West while permits saw double-digit percentage growth in all regions but the Northeast.