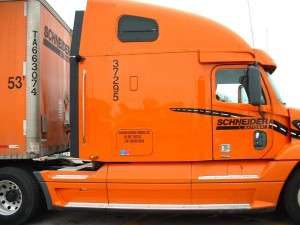 Green Bay, Wis.-based Schneider National says it has entered the energy transportation services business, moving loads of base materials to and from oil well sites across the U.S. In doing so, Schneider says it is one of just a few carriers in the market.
George Grossardt, VP and general manager for Schneider, says the fleet hauled its first energy-related load in June of 2011 after making a significant investment in a fleet of specialty tractors and trailers (pneumatic bulk trailers and liquid tankers) needed to serve energy exploration sites. Schneider says it is providing both inbound and outbound services
The current energy business in the U.S. is centered in Texas, Oklahoma, New Mexico, Pennsylvania, Ohio and North Dakota, and Schneider says it is carrying loads for customers in all of these markets.