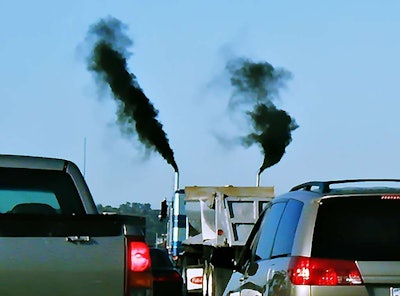 California officials will start the new year by enforcing a new truck regulation that carries substantial penalties for violators.
Starting Jan. 1, owners of trucks weighing more than 26,000 pounds with 2000-2004 model year engines must have installed verified soot filters or have upgraded to newer vehicles. This California Air Resources Board Truck and Bus regulation has non-compliance penalties starting at $1,000 per violation.
Additionally, the state's Department of Motor Vehicles can place a registration block on a non-compliant truck and/or the California Highway patrol can impound it. Penalties will increase significantly with time, the board stated.
Owners of three or fewer trucks can delay compliance until 2014 by reporting truck information to the board under the rule's small fleet option. Also, filter installation can take more than a month to accomplish, but truckers who have not had it installed by Jan. 1 can significantly reduce penalties by taking action now, the board stated.
The new regulation applies to trucks operating in California, regardless of where registered.
After similar requirements became effective last year for engines MY 1996-1999, state officials assessed nearly $2 million in fines during the first nine months of 2012.
CARB inspectors will check compliance at random roadside locations, truck stops, fleet facilities and distribution centers as well as perform electronic fleet audits.
More information is available by: