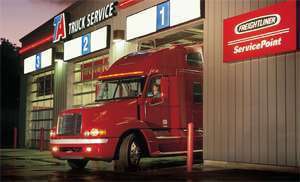 At the American Trucking Associations' Summit on Natural Gas in Trucking, executives from Love's Travel Stops, Pilot Flying J and TravelCenters of America discussed their respective plans and strategies for developing the nation's infrastructure for liquefied natural gas (LNG) and compressed natural gas (CNG) for Class 8 trucking operations.
Pilot Flying J and TravelCenters of America are aggressively rolling out LNG stations, with Clean Energy and Shell, respectively. Love's, meanwhile, is concentrating its early efforts on CNG.
"At Love's we feel like CNG will get traction in specific applications," says Frank Love, president of operations for Love's Travel Stops. "We feel that CNG certainly has a place in the shorter-haul market. When demand begins to develop, you'll see supply and infrastructure develop quickly."
As truckstop operators and natural gas suppliers continue to build out infrastructure, the groups are betting on industry demand to catch on.
"[Natural gas adoption] is going to be driven by economics," says James Haslam III, chairman of Pilot Flying J. "What is the delta going to be between diesel and natural gas? If diesel goes to $5 per gallon and natural gas stays the same I would say the timeframe would be sooner rather than later."
Currently 35 states have some form of grants or incentives available to fleets looking to adopt natural gas technology into their operations, but currently no federal incentives are available. That could change, however, if the Natural Gas Act currently in Congress gains momentum.
"I don't think [a federal incentive package] is necessary," says Thomas O'Brien, CEO of TravelCenters of America. "It seems to me that if [natural gas adoption] is going to happen it's best to happen for economic reasons. We have a path to do that. While government programs can be helpful on the front end, they can cause industry participants to make non-economic decisions along the way. We aren't counting on that to execute our plan in any way."
"The federal tax on natural gas is 41 cents and 24 cents on diesel, and that doesn't make any sense," says Haslam. "[Federal taxes] ought to be the same or less for natural gas. The industry – whether as truckstop operators or as fleets, need to rally around that and I think that is something that politically ought to be easy to change. I don't know who could argue against it."