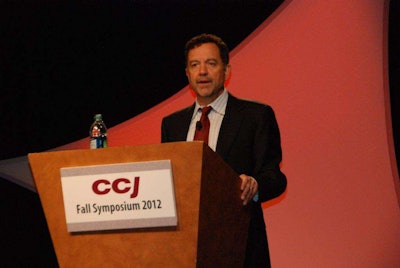 Forbes publisher Rich Karlgaard told attendees at CCJ's Fall Symposium in Scottsdale, Ariz., today that while the Great Recession has ended, U.S. economic growth will remain sluggish for the foreseeable future. But while his overall outlook appears bleak on the surface, Karlgaard believes that beneath the surface, the economy is already remaking itself and reorganizing to meet new markets and global opportunities that will arise in the coming years.
One of the more worrisome trends Karlgaard sees today is the profound unevenness of the economy, calling it extremely "lumpy," with certain pockets of the country doing very well, while others struggle. The same holds true on the business front, with many large companies and corporations doing very well while many smaller businesses "circle the drain"
Citing an example, Karlgaard compared the aftermath of the last recession with the on the U.S. endured in the mid-1970s. Karlgaard noted that while the economic conditions in play then very closely mirrored those today, they were exacerbated by political and foreign unrest including Watergate and the fall of Saigon. But in the midst of all that unrest, Karlgaard says, the seeds of the technologies and innovations that help power our economic engine were being planted as companies like Microsoft, Apple, Fed Ex, SouthWest Airlines, Intel and Oracle were being founded.
He feels the same thing is happening today, as companies worth through this rocky period, which he predicts will last for another five years or so.
In the meantime, Karlgaard has come up with a list of 8 virtues he says he has identified in companies that are doing well, and even thriving in these difficult time.
The first four virtues are what Karlgaard calls "hard" virtues — which are real-world practices he says good companies practice to make sure they are competitive and serving customer needs today. They are:
* Cost — according to Karlgaard, no company today can afford to compete with a bloated cost structure. Good companies today are looking hard at viable ways to cut costs out of their businesses and run lean. An example he cited is migrating to Cloud-based services as a way of cutting computing and data storage costs.
* Speed — The ability to react to market forces and customer needs is another essential requirement Karlgaard sees in business today. He says all businesses today deal with two basic customer types: Those who negotiate every transaction and those who will pay full price but except exceptional service in return. Good businesses today must be able to react to, and please both.
* Supply chain and logistical efficiency — Karlgaard says the redefinition of logistics gave many companies — notably Wal-Mart — a competitive edge in the 1980s and 1990s. But the model that was pioneered then is changing as the rise of the smart phone as a consumer purchasing tool, rising fuel prices and changing labor costs in Asia begin to take hold. Karlgaard fleets that today, all the logic behind those supply chain innovations from 20 or 30 years ago is up for review and companies that find innovative ways to adapt to those changes will emerge as winners in the coming years.
* Analytics — Today, Karlgaard notes "Big Data" can swamp companies — unless they figure out ways to process and use that information to their advantage. And at the the end of that day, that data should be telling you extremely fundamental things about your business: Notably, Are you charging too much for you products and services? Or are you not charging enough and leaving money on the table as you make deals and establish partnerships?
At the other end of the scale are "Soft Virtues," which Karlgaard says don't impact day-to-day business operations, but go a long, long way toward establishing your company's image and reputation in today's highly competitive business climate. Those four are:
* Design — This is a way of thinking that Karlgaard says should permeate your company. Very simply, he says, its making sure that everything your company does makes sense. People today want to deal with intelligent companies and feel they can't afford not to. Your company needs to be doing things right and giving your customers peace of mind by designing smart, efficient operations and systems.
* Teamwork — The list of great companies that were founded by partnerships is impressive, Karlgaard notes. And teamwork remains a fundamental aspect of all successful companies. Dysfunctional companies simply don't perform over the long haul. So Karlgaard says making sure your people work well together and speak the same language when they pursue goals is crucial for success today.
* Brand — Branding is important today because you don't control it anymore, Karlgaard says. Any false note or instance of poor performance today can be broadcast across your industry and even around the world by bloggers or social media outlets like Twitter or Facebook. Consolidating your brand and working daily to reinforce that brand are the only defense company's have today in the face of the social media onslaught.
* Purpose– Knowing what your company exists to do and why your employees walk through the door each morning is vital today, Karlgaard says. He says he's not talking about "some mush written in your annual report, " but instead a deep commitment to mission and goals that is understood and consistently acted upon by everyone in your company every day. Companies that follow this virtue, Karlgaard says, enjoy better employee recruitment and retention as well as enhanced customer loyalty as opposed to companies operating on a false moral foundation.