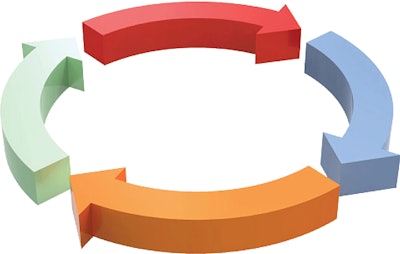 Fleets ramp up technology investments to boost margins, driver relations, customer service
By Aaron Huff
Tennant Truck Lines recently moved from an overcrowded family farmhouse in Orion, Ill., to a $3 million facility in Colona, Ill. Over the next two years, the open-deck carrier plans to grow from 184 to 250 trucks and add 50 new jobs that pay $40,000 a year on average.
"It was tough to invest in technology during the recession," says Aaron Tennant, president. "We were watching every dollar that flowed out of here. Today, although our margins are not where we would like them to be, we are looking forward. We want to invest in any cost-savings technology to help improve on margins and to provide value and solidify our position with customers."
We want to invest in any cost-savings technology to help improve on margins and to provide value and solidify our position with customers."
– Aaron Tennant, president, Tennant Truck Lines
When revenues spiraled down in 2008 and 2009, Tennant – like most fleet executives – had to cut costs dramatically to survive. As business rebounded, fleets looked to technology to bring more discipline and stability to their operations and more value-added services to their customers. Investments in technology soared, compelled by a need to target and remove unnecessary work and waste from fleet operations while adding value to customer relationships.
Successful managers have accelerated their return on investment by engaging employees and drivers in the following areas.
Fuel savings
Investing in technology to reduce fuel consumption has paid big dividends for Tennant Truck Lines and its drivers. Tennant created an automated scorecard system that captures data from various sources across its enterprise. The scorecard rewards drivers that meet performance levels in fuel savings, customer service, safety, compliance and other areas. Drivers that achieve all targets earn a monthly bonus of $0.06 per mile.
The fuel portion of the scorecard is worth $0.03 per mile. Tennant doesn't tie this incentive to miles per gallon but to driving behaviors that impact mpg directly, which include overspeed, use of cruise control, time in top gear, idling and hard-braking incidents.
Tennant has established thresholds for each of these metrics according to equipment type and fleet assignment – dedicated and irregular route.
"Good quality drivers understand that now the responsibility is put back on them to earn more pay," says Tennant. "If they want to meet these metrics, they will do the right thing and drive the right way. The guys we want in the fleet are those who succeed. They understand that it is something they can control."
Drivers can view their current performance for each of these metrics in real time using the fleet's onboard computers. They receive a full scorecard with their bonus check every month.
Old Dominion Freight Line implemented a new onboard computing platform in 2010 and has been saving more than $1 million per month in fuel costs. The less-than-truckload company uses information captured by its PeopleNet computing platform as part of a comprehensive mpg program. ODFL uses the PeopleNet data in an integrated fashion with "virtually every aspect" of its operations, says Steve Kane, telematics department manager.
ODFL has 6,500 tractors and 218 service centers. Every fleet manager has mpg dashboards and scorecards that identify the exceptions automatically according to their individual circumstances. Drivers also have their own "ROI" scorecard that tracks their metrics for rpm, overspeed and long idle.
To identify exceptions accurately, the company's scorecards were designed to consider variables that impact mpg that drivers and managers do not control, such as the lane, pounds and engine year, model and make.
Since it started the mpg program in 2010, ODFL has saved more than 3 million gallons of fuel. Last year, its average fuel economy improved by 0.3 mpg, and currently more than half of its terminals are above 7 mpg, Kane says.
By developing an extensive measurement system for mpg, ODFL also has been able to research and test new fuel-saving equipment accurately. The company was able to isolate a 0.277-mpg increase in fuel mileage by using trailer skirts.
"The biggest thing with ODFL is the people," Kane says. "We created reports that showed them what we are doing."
In-cab productivity
Any attempt to streamline a process and remove waste can be a balancing act. While management may see the technology's benefits, drivers might perceive it as disruptive to their established work routine.
The moment drivers see work become less complex and their lines of communication open up, their relationships with technology and their employers change.
Coming out of the recession, management at FirstFleet believed that giving drivers more real-time electronic communication would help reduce cost, increase value to customers and build a better workplace.
Drivers at the Murfreesboro, Tenn.-based dedicated truckload carrier used to interact with the office by telephone and in person when they received their paper payroll checks and settlement sheets. However, printing checks and settlement sheets was a wasteful process, and the information also was old and stale by the time drivers received it.
"We want to remove the friction in that experience from methods that take too long to accomplish," says Austin Henderson, director of IT infrastructure and innovation. "We want to make every employee aware of data in a real-time experience."
FirstFleet changed how its 1,500 drivers interact with the company. All forms of routine communications – such as payroll, benefits, vacation time, logbook compliance and fuel performance – were moved to a self-service Website.
Drivers now have online access to fuel performance; mpg, miles, idle time and time spent in top gear and cruise control are updated weekly on the Website. They also see a leader board for fuel economy and the amount of bonus they are losing by falling below the company's targets.
"The relationship is better and more productive if it is open and honest," Henderson says. "Methods that do that don't create friction. If you tell the truth, people respect that, even if it's not what they wanted to hear."
FirstFleet's Website is mobile-enabled so that drivers, especially the younger generation, can interact with the company using smartphones and tablets. Since creating the Website, the fleet's fuel economy has improved by 0.15 mpg.
"The goal is to be transparent with the information we have," Henderson says. "It didn't cost us any more money. We already had the information, but we have made the process of interacting with that data easier."
Coming out of the recession, one of the goals for Christenson Transportation was to expand the computing power in its vehicles. The Springfield, Mo.-based company wanted to give its 80 owner-operators and 20 company drivers access to e-mail and to the Web to conduct Web-based training. It also wanted drivers to do more data entry and scan receipts to streamline its billing process.
In March 2011, Christenson began replacing its existing mobile communications system with Rand McNally's TPC. One immediate impact was the increase in safety awareness as management contacted drivers for every hard-braking incident they saw.
"Tailgating is my pet peeve," says Don Christenson, president. "We have all but eliminated [hard braking] in our company." Another immediate impact was faster invoicing; the fleet's average days to invoice was shortened by three days. With in-cab scanning, it now takes about 1½ days from the time drivers deliver to present invoices to customers.
"All of my drivers see it as an extreme benefit to them in the owner-operator world," Christenson says. "They do not have to go into truckstops to scan bills and don't have to have a separate computer to e-mail family and friends."
Driver communications
Many investments in technology have been geared toward expanding connectivity with drivers. More companies are starting to send videos, documents and audio messages to drivers to communicate information quickly and effectively.
In 2009, Transport America was one of the first fleets to upgrade to Qualcomm's new MCP200 platform. One of the Eagan, Minn.-based company's goals was to use the Media Manager application to keep drivers connected and offer the best possible service to customers.
Transport America has eight full-service support centers and 10 small terminals to serve customers throughout the United States, Mexico and Canada. Its fleet includes more than 1,840 tractors with 350 owner-operators and 2,200 drivers.
Before using Media Manager, Transport America would send important communications to drivers by voicemail, but drivers often did not hear the messages in a timely manner. The company now sends timely and personalized content and training in the form of video, audio and PDF files directly to the cabs.
"This application puts a face in front of drivers, which talks to them in a much more personal and timely manner," says Tom Benusa, chief information officer of Transport America.
In a typical week, Transport America drivers might receive two or three messages via Media Manager. The majority of these are audio updates from operations managers or the senior management team. PDF files also are used to announce special events, provide awareness to current Transport America programs and update policies. The application also has allowed a lot of the company's training materials, which include videos, to be sent to drivers on the road to view at their convenience instead of having them stop by a terminal or support center.
"While Media Manager is a great safety tool, it can be much more than that," Benusa says. "We use a variety of messages and formats to keep the content fresh and the drivers interested."
In June 2010, Kool Pak – a 90-truck provider of refrigerated warehousing, transportation, distribution and logistics services throughout the United States and Canada – deployed a Web-based system across its fleet to keep drivers and employees connected.
Employees can access company policies and communications centrally, and review and sign documents electronically. The Compli system has driver qualification file management and integrates internal and Federal Motor Carrier Safety Administration data into a compliance dashboard for drivers. Employees also use the site for managing vacation days and other functions.
Within six months of using Compli, Kool Pak received a five percent discount from its insurance provider. The company since has broadened its use of Compli beyond safety and compliance; Kool Pak now also uses the system to manage its "new idea" program for employees to submit their ideas online for how to streamline processes.
"We have implemented almost 80 percent of those ideas," says Wade Palmer, chief financial officer. Management uses the system to report back to employees on how their ideas were implemented. Kool Pak's driver turnover rate is 12 percent, and Palmer attributes the success in part to the ideas program. "It is a way to show that we care about their opinions," he says. "The follow-up makes them feel good about the company."
Kool Pak now is working on a wellness module for Compli that will mitigate the rising cost of health insurance. The company plans to push wellness training materials to employees and to monitor their progress toward their goals.
"This is a benefit not only for employees, but it will also affect their contributions to health care costs," Palmer says.
Customer value
Technology investments also have targeted customer relationships. Tennant Truck Lines recently created a "reload" center to consolidate shipments for one of its customers. As part of the project, Tennant developed a software system internally to optimize load building and scheduling. Its customer sends freight from its manufacturing facilities to the reload center for Tennant to manage deliveries nationwide.
Instead of sending two trucks to destinations such as Montana, each with half-full trailers, Tennant uses the reload center to consolidate shipments and keep its own vehicles and drivers in a more defined network. "Ultimately, that is what is valuable to drivers," says Tennant. "They do not want to shotgun and be out for two to three weeks at a time."
Tennant plans to expand its reload center as more opportunities arise. "Some customers don't want to give up that control or share the information," he says. "Those who are willing to do so are certainly able to reap benefits of value and freight cost savings."
As capacity continues to tighten, Tennant also is putting a priority on giving trucks to customers that exchange data electronically. About 85 percent of its traffic is coming through electronic data interchange. "[EDI] is more efficient and allows us to get data and capture it in a very clean error-free way," Tennant says.
Sometimes, customer service is an unexpected byproduct. While electronic onboard recorders rarely are considered to be a customer service tool, Port Logistics Group found use for the technology beyond compliance with hours-of-service regulations.
The Rancho Dominguez, Calif.-based 50-truck carrier serves the ports of Los Angeles and Long Beach. Its drivers spend a lot of time waiting on loads and inspecting equipment and have to change duty status often. When using paper logs, tracking activities on paper accurately was a challenge.
"Drivers cannot do logs very well in intermodal transportation," says Mike Johnson, trucking operations manager. In May 2011, the company implemented the Xata Turnpike mobile platform, which combines a smartphone application with a small recorder that captures vehicle and engine data.
Now, when drivers change duty status and complete inspections, customer service representatives use the live information about drivers' activities to dispatch and plan more effectively; they also know when drivers arrive and depart from customer locations. "It's proven vital," Johnson says.
The rapid pace of technology investment during the past few years marks a dramatic turnaround by fleets to run leaner, more profitable operations while increasing driver satisfaction.