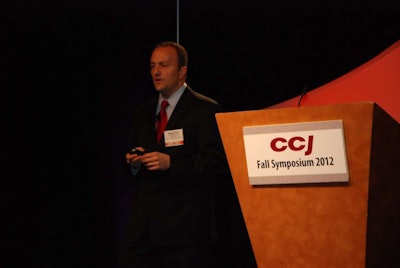 Bryan Price, senior transportation specialist at the Federal Motor Carrier Safety Administration, told attendees at the CCJ Fall Symposium in Scottsdale, Ariz., the agency will propose a change to its safety rating process in mid 2013. This change would enable the agency to downgrade the safety ratings of motor carriers without conducting an on-site audit.
Under the current Compliance, Accountability, Safety program, carriers receive warning letters and on-site audits, called interventions, if they score above the "intervention threshold" in at least one of seven BASICs (Behavior Analysis and Safety Improvement Categories).
Suppose a carrier has 10 hours-of-service violations in the Driver Fatigue BASIC. "Do we need to go to the company location to verify?" he asked the audience.
To reach an intervention threshold for a BASIC, motor carriers would score above 80 percent of their safety group. Those that transport hazardous materials have a lower–and more strict–threshold set at 75 percent.
For motor carriers to be classified as hazmat, Price said they must have at least two hazmat placarded inspections and at least five percent of their total inspections must be hazmat placarded.
During his talk, Price defended the correlation of safety scores, as formulated by the Safety Management System (SMS), to crash risk.
In testing the SMS, he said agency has found carriers that surpass at least one BASIC intervention threshold have a 3.9 percent higher crash rate. Carriers identified by SMS as high risk have a crash rate that is twice the national average. The agency, as well as industry groups, also found that the Hours-of-Service, Vehicle Maintenance and Unsafe Driving BASICs have a strong relationship with future crash risk.
The Driver Fitness BASIC, however, showed a negative or inverse relationship to crash risk.
"That has been troubling," he said. By itself the BASIC is not a good indicator, but three out four carriers that score badly are above the threshold in other BASICs. The agency has made the intervention thresholds stronger for BASICs with more crash risk, he said.
Another area of concern is that the agency only has sufficient data to assess 200,000 out of 750,000 total carriers in at least one BASIC. The FMCSA is continuing to gather more data on small carriers, he said. The important statistic is that the agency has violation data on 92 percent of the motor carriers that are involved in crashes.
Future improvements to CSA will include overhauling the severity weights of violations. Rather than using a scale of one to 10, the agency plans to simplify violations on a "high, medium or low" scale.
Price also reviewed the most recent CSA changes that went into effect December 1. The set includes a new distinction to the "driving while disqualified" violation in the Driver Fitness BASIC. The system now accounts for whether the suspension was related to safety.
Occasionally, drivers have licenses suspended for non-safety reasons such as being behind on child support. Suspensions from safety-related reasons now have a higher severity weight in the BASIC.
The changes also include removal of all speeding violations in the 1-5 mph range. The violations will be removed from two years of carrier inspection histories included in public SMS rankings. If no specific "over" range is noted on an inspection, the violation will be given the lowest, 1-point severity weighting.
Finally, improper securement violations will appear as part of carriers' Vehicle Maintenance BASIC measures. In place of the former Cargo Related BASIC, FMCSA is leaving only hazmat-related violations and calling the category the Hazmat BASIC.
Over the next year, the Hazmat BASIC will be restricted from public view but will still be used for interventions. If a motor carrier's only problem is with the Hazmat BASIC, the agency will not do an audit, he said. It will just send a warning letter.