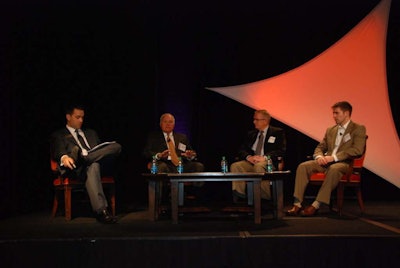 Participants in a panel of executives from pioneering natural gas fleets yielded a mixed bag of experiences and expectations regarding their experiments with natural gas when discussing the state of the alternative fuel market today at the CCJ Fall Symposium in Scottsdale, Ariz. The panel consisted of Dean England, president, C.R. England; Jeff Shefchik, president, Paper Transport; Phil Crofts, marketing director; Dillon Transportation and Erik Neandross, CEO of Gladstein, Neandross & Associates, who moderated the panel.
Shefchik and Crofts reported positive experiences, while England cited disappointing results. England, however, noted that his fleet took a more expensive approach to natural gas experimentation and made several mistakes while doing so. That said, he remains committed to the overall natural gas concept and believes that with tweaks, the trucks could be made to run competitively.
Both Dillon and Paper Transport took a very customer-oriented approach to natural gas adoption, which made a big difference in how they approached the adoption process. England, in contrast, undertook its evaluation process with no customer input.
"You need world class shipping partner who will say, 'If you run clean we will support you,;" Crofts explained. "On our end, if we can assure a shipper that their fuel surcharge is not going to move, we can then make a pretty compelling case to get their business. Additionally, if we can go to a shipper and tell them that we'll reduce their carbon footprint, it's a strong marketing position for us."
Likewise, Shefchik says plans that based on its overwhelmingly positive experiences, Paper Transport remains bullish on natural gas. "The economic model for us is very close to break-even," he says. "We are saving on fuel costs but recognize there is still some risk out there in adopting this technology. But we feel everything is moving in the direction to make this an attractive option for fleets. We, too, can go to shippers with a positive message on the economy and environment. A the same time, we're a small fleet. We want to be a market leader and create a name for ourselves and natural gas has certainly done that for us."
One mistake England acknowledged was limiting the miles run by his natural gas trucks, which Crofts and Shefchik both cite as a vital component of making a solid business case for the trucks.
"We're running 80,000 miles a year with the 9 liter engines with no mountains or large hills to pull," Shefchik notes. "So we are very, very application specific. But I think any fleet needs to be putting at least 80,000 miles a year on these trucks to get the payback where it needs to be."
That's a point Crofts agrees with. "We also see the payback coming a lot faster the more miles you run," he says. "We figure that if you're putting 50,000 miles a year on the truck, payback takes 3 times as long. But if you can run 100,000 miles a year, the ROI comes very quickly."