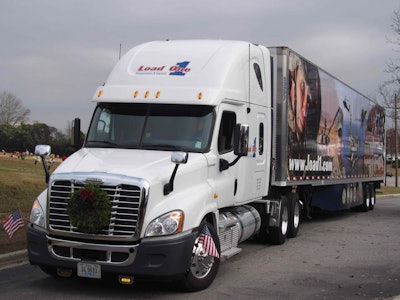 With Saturday's Wreaths Across America ceremony at Arlington National Cemetery fast approaching, trucks from numerous fleets currently are crossing the nation to deliver wreaths for local WAA chapters to cover veterans' headstones at local cemeteries.
On Tuesday, Dec. 11, two Load One semi-trailers carrying more than 5,500 wreaths were escorted from the Georgia-Alabama state line to Jefferson Memorial Gardens in Hoover, Ala., just south of Birmingham. They were met there by John Elliott, president and CEO of the Taylor, Mich.-based full-service expedited hauler, and a local Load One employee, Sprinter van driver Eric Blake.
Elliott and Blake helped the two truck drivers – Ken Johnson and Larry Carty – unload 60 boxes of wreaths at the Hoover cemetery before the trucks departed for more Alabama stops in Montevallo and Fort McClellan, then three Louisiana deliveries. "They're glad to volunteer their time," Elliott said of the two drivers. "We took care of their expenses and fuel."
This is Load One's second year helping WAA, a nonprofit organization founded to continue and expand the annual wreath-laying ceremony at Arlington. The WAA event is held every year to honor fallen soldiers, veterans and those still in the service. With nearly 800 WAA locations across the country and internationally, location leaders work to raise funds for wreaths year-round.
Load One's delivery in Hoover was initiated by a wreath donation by McLeod Software. The provider of transportation management software for the trucking industry donated 301 wreaths, the remaining amount necessary to cover each headstone at Jefferson Memorial Gardens.
Having learned about WAA through McLeod's contacts in the trucking industry, Caroline Lyle, director of business development, wanted to know how her company could help locally. One of WAA's partners, the Truckload Carriers Association, put Lyle in contact with the WAA location leader in their area.
This year's WAA ceremony takes place Saturday, Dec. 15, at Arlington and more than 800 veterans' cemeteries and other locations in all 50 states – including Hoover – as well as some internationally. In 2011, more than 325,000 wreaths were placed on headstones at more than 700 locations in every state and overseas with the assistance of nearly 180,000 volunteers.
"Along with the donation, we are encouraging all 200 of our employees to attend the ceremony and bring their children," said Lyle. "In addition to honoring the memory of the fallen, our youth need to understand the value of freedom in this country, which is the part of Wreaths Across America's mission that we find most encouraging. We are proud to play a role in making that happen."
Last year, the organization marked its 20th year making the trip to Arlington with the placement of nearly 90,000 remembrance wreaths. In 2012, one of its goals is to place a wreath on each of the 225,000 headstones at the cemetery.
TCA is working with WAA to dispatch drivers and coordinate the logistics of wreath delivery across the country. The organization also launched a Website, www.truckloadofrespect.com, where donations can be made to underwrite the cost of placing a wreath on every headstone at Arlington.
Thanks to McLeod Software's donation, this will be the first year that all 520 veterans' headstones at Jefferson Memorial Gardens will receive a wreath. Location Leader and Alabama Gold Star Mother Marynell Winslow said she was amazed when she learned of McLeod Software's contribution. "This donation by McLeod Software is truly an act of patriotism and respect for these veterans," Winslow said. "We are very grateful."