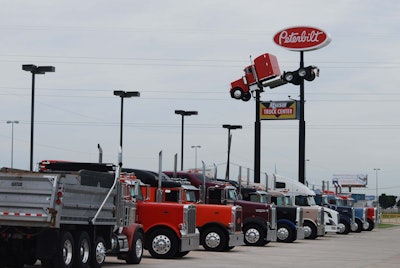 Truck sales in 2013 will be flat to as much as 5 percent higher than in 2012, said W.M. "Rusty" Rush, CEO and president of Rush Enterprises.
Any increase would be driven by a slight increase in demand from housing and the truckload sector. Oil and gas field sales, which have boomed in recent years, will likely dip next year, he said.
Rush, speaking with trucking journalists during the Rush Truck Centers Tech Skills Rodeo, forecast U.S. Class 8 retail registrations of 190,000 to 210,000 for 2012.
"I don't know that we'll ever get a 2006 again," he said. "You had an economy that was over-revved," due to the housing bubble, and massive pre-buys of trucks from customers looking to dodge the engine technology changes that were coming with the 2007 federal emissions standards.
Rush said his strategy is built on constantly improving service. That's one reason his company is buying a dealership group in Ohio, which is further north than the Rush network, which is mostly in the Southeast and West. The Ohio group has International, IC Bus, Isuzu and Idealease franchises. The agreement includes locations in Akron, Cincinnati, Cleveland, Columbus, Dayton, Findlay and Lima, Ohio.
"More service points on a map differentiates myself from the competition," he said. "I want them to think of Rush before they think of a product."
Many older, large fleets are now being run by younger leaders who are more sophisticated in truck buying and evaluating the costs of service and downtime. "They understand the true total cost of owning a truck," Rush said.
The Tech Skills Rodeo is one tool the company uses to enhance its service, Rush said. The rodeo provides recognition of the best technicians, awarding winners and finalists with thousands of dollars in cash and other prizes, and also provides an incentive for them to stay current in their training.
Rush Enterprises is the largest commercial vehicle dealer group in North America. It has 70 locations in 14 states. Peterbilt and Navistar are the heavy-duty brands it represents.