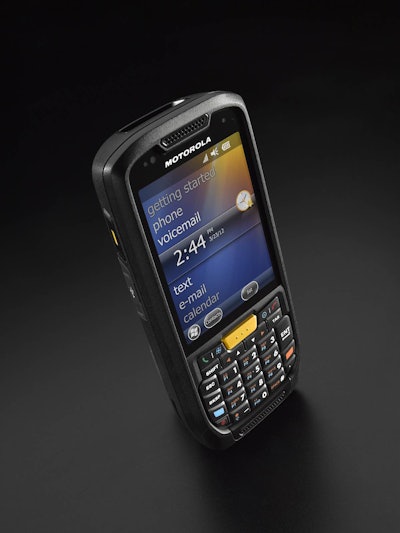 Motorola Solutions, Inc. (MSI) announced a new addition to its MC product line of mobile enterprise-grade devices. The new MC45 mobile computer is the company's first WAN-based handset in a new category of mobile computers that address the needs of field-based mobile workers in cost-sensitive enterprises.
Motorola says the MC45 is targeted at applications such as customer relationship management (CRM), sales order entry, inventory management, proof of delivery, direct store delivery (DSD) and route accounting.
The MC45 offers wireless LAN (802.11 a/b/g) and WAN (3.5G HSDPA voice/data) connectivity along with a large outdoor viewable 3.2″ display, numeric keypad and a full-shift battery with power management capabilities. Device certifications are currently in process with major wireless network providers.
A high-performance laser scanner with patented Adaptive Scanning technology can serve in scan-intensive data capture environments with a touch screen for signature capture as well as a 3.2 megapixel color camera capable of picture taking and decoding 1D/2D barcodes.
The Windows Mobile 6.5 operating system, a platform that is ideally suited for businesses that have applications they wish to deploy across multiple devices in the field, and in the office, such as laptops, PCs and onboard computers.
Along with the recently introduced rugged MC67 EDA and durable ET1 WAN tablet, the MC45 EDA represents an extension to Motorola's enterprise mobile computing WAN portfolio.
The MC45 also supports Motorola's RhoMobile Suite, which can synchronize data and operate in either a connected or disconnected environment and also enables businesses to develop enterprise applications once and deploy them on both Windows Embedded Handheld and Android-based Motorola devices, allowing for consistent user experiences.
The rugged MC45 is available with Motorola's Service from the Start with Comprehensive Coverage program, providing coverage for normal wear and tear as well as accidental damage to internal and external components, significantly reducing unforeseen repair expenses. The device comes with a one-year warranty and guaranteed product support for six years.
The list price for the MC45 is $1,345.