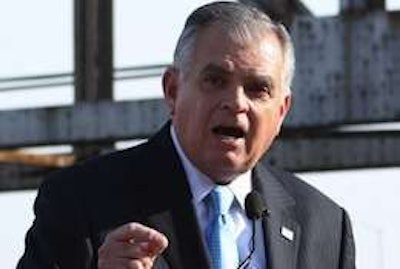 Contradictory to what Transportation Secretary Ray LaHood said at a party in Washington last week, he is leaving President Barack Obama's cabinet. LaHood informed his staff and the president this morning that he would not be sticking around for Obama's second term, but he will remain in his current position until a successor is found.
"It has been an honor and a privilege to lead the Department, and I am grateful to President Obama for giving me such an extraordinary opportunity," LaHood said in a statement, calling the job "the best I've ever had."
LaHood congratulated the DOT staff for securing funds in the American Recovery and Investment Act of 2009 — the so-called stimulus package — awarding billions of dollars in grants for transportation-based projects, reauthorizing FAA and passing the highway funding bill — Moving Ahead for Progress in the 21st Century — last summer.
The president also released a statement this morning, thanking LaHood for "his dedication, his hard work and his years of service to the American people," the statement says.
"As Secretary of Transportation, he has fought to create jobs and grow our economy by rebuilding our roads, bridges and transit systems. Under his leadership, we have made significant investments in our passenger rail system and laid the groundwork for the high-speed rail network of the future," Obama said.
LaHood served as the only Republican in Obama's first-term cabinet. There's no word yet on who will be replacing him.