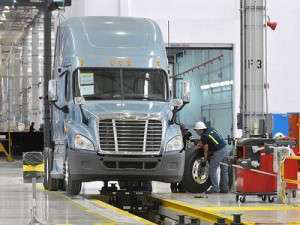 Preliminary data from FTR Associates released this week shows that Class 8 truck orders for January spiked 7 percent from December, but were still down 11 percent from January of 2012. 
FTR's data puts the number of net orders at 22,235 for the month, marking the fourth consecutive month that orders topped 20,000 — a decent comeback from a soft spot in the middle of 2012. 
"We've been forecasting a weak start to 2013 and the numbers we're now seeing, while improving, are still below where they should be for a solid recovery," says Eric Starks, president of FTR. Moreover, Starks says, Congress and the president resolved part of the fiscal cliff crisis and investment in business surged some in the last quarter of the year — an indication of businesses' willingness to spend money, Starks says — meaning that fleets perhaps will perceive these as positive signs and "place orderes for equipment that they need," Starks says.