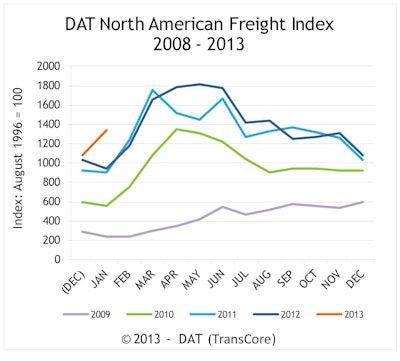 Like the ATA Truck Tonnage Index reported on earlier this week, the DAT North American Freight Index — a measure of spot market freight availability on the DAT Network of loadboards in the U.S. and Canada — recorded a January record last month and saw a whopping 42 percent increase from January 2012.
It also exceeded December levels by 24 percent — the first time ever that the DAT Index has risen from December to January. In the last 10 years, in fact, there has been an 13 percent average drop between the two.
Van freight increased 16 percent from December, while reefer saw a 14 percent uptick. Flatbed saw the biggest gains, rising 28 percent from the previous month. Year over year, van volumes were 36 percent higher than January 2012, while reefer was 32 percent higher and flatbed was 7.9 percent higher.