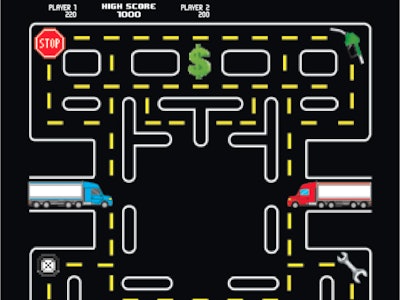 In the first part of the "Driving Games" series, Technology Editor Aaron Huff covers how fleets are capitalizing on technology to using games to engage drivers and what types of games are available. Part 2 covers how to make games fair and attract drivers to them and third-party services fleets can use to administer driver games — see it here. Part 3 covers the social aspect of the competitions and what type of rewards to offer. See it here.
Five months ago, flatbed carrier ProFleet Transport set up a personal computer in its driver's lounge. Drivers for the 40-truck fleet can use the PC to check e-mail, surf the Web or prepare a document. Most never leave the homepage, where they log in to the Elkhart, Ind.-based company's rewards program, Drive for Gold.
One driver used to avoid computers, but he now logs in immediately when he comes to the office. He earns points instantly by answering a safety question. He also sees his point balance increase weekly for safe driving, turning paperwork in on time, fuel efficiency and other metrics. Each point brings him closer to the prize rewards on his wish list.
"The driver didn't want anything to do with the program at first," says Mike Gregory, safety director. "He thought it was just another flash in the pan. Now he is one of the biggest cheerleaders. That by itself is a huge victory."
Rewards programs are popular among businesses to encourage loyal customers, but that's not what ProFleet has in mind. Its objective is to build profitable, safe and loyal drivers.
If you are looking to start a driver rewards or incentive program, or looking to improve an existing one, consider these five technology strategies to engage drivers and maximize results.
1. Gaming drivers
Online and mobile games are engrained in society. Millions of people play them from laptops, smartphones and tablets. Many games encourage users to share their achievements and find new opponents through social media sites such as Facebook.
Fleets and technology suppliers are capitalizing on this trend by using game dynamics to engage drivers – especially the younger generation.
Driver portal websites are common tools for giving drivers access to safety training videos, payroll information and routine communications such as to request time off. Integrating game dynamics into these applications is one place to start. A number of companies have developed cloud-based services for fleets that want to hit the ground running.
Stay Metrics, based in South Bend, Ind., developed the Drive for Gold program for ProFleet. Carriers that use the Stay Metrics platform are seeing a difference with driver retention. The company's clients are seeing a turnover rate among drivers that do not enroll that is four times higher that drivers that do, says Tim Hindes, chief executive officer of Stay Metrics.
Load One, a full-service expedited hauler based in Taylor, Mich., began using Stay Metrics about six months ago. To date, 60 percent of its 365 drivers have enrolled and log in to the fleet's Gold Rewards site regularly. The 40 percent of drivers account for 80 percent of its turnover.
Stay Metrics has found another interesting correlation: 60 percent of drivers that use the rewards program also play online or mobile games.
Propel IT's online FuelOpps program uses game dynamics to engage drivers in fuel conservation. The FuelOpps database captures drivers' fuel performance data through integration with a fleet's telematics platform.
Drivers access the FuelOpps database online through a user interface that shows a variety of scores and percentile rankings for the areas of fuel economy they control directly. Drivers earn points for each mile they drive per day when their overall score is above the 55th percentile. Drivers also can earn badges and advance to different achievement levels.
In November 2012, Covenant Transport began to evaluate FuelOpps through a pilot project. The Chattanooga, Tenn.-based truckload carrier, which operates a fleet with nearly 3,000 drivers, is testing FuelOpps with 350 drivers. Early results are encouraging, says Doug Schrier, vice president of continuous improvement.
"Drivers that have accepted it have liked it," Schrier says. "FuelOpps has created a sense of competition where drivers can see how well they are doing against their peer group."
Covenant created a rewards program as part of the project. The 10 drivers with the most FuelOpps points at the end of the project will receive prizes, and the rest will be entered into a grand drawing. Drivers' FuelOpps points will determine the number of entries they receive.
Fleets also can use technology platforms to "gamify" rewards and incentive programs for independent contractors. In at least one instance, the contractors already are paying to play.
OnRamp Transportation Services specializes in providing low-mileage tractor and trailer leases to independent contractors. Through its Equinox Owner-Operator Solutions subsidiary, it also provides real-time business consulting.
Equinox has agreements with fleets to use its cloud-based software to extract driver payroll, settlement, fuel mileage and other performance data from their back-office information systems. Drivers can access this information instantly through Equinox's Android mobile app and website.
Equinox is planning to add new game dynamics to the app and website. Engine data captured from fleets' telematics systems, combined with the drivers' profit-and-loss statements and fuel purchase data, will show them in real time how the current decisions they make are impacting their bottom line.
As part of this app, Equinox also plans to feature an intuitive dashboard that compares and contrasts drivers with their peers and industry trends in real time. Equinox also will release a rewards platform where drivers can earn points for making good business decisions and redeem them in the Equinox Rewards Store, says Spencer Angerbauer, president of OnRamp.