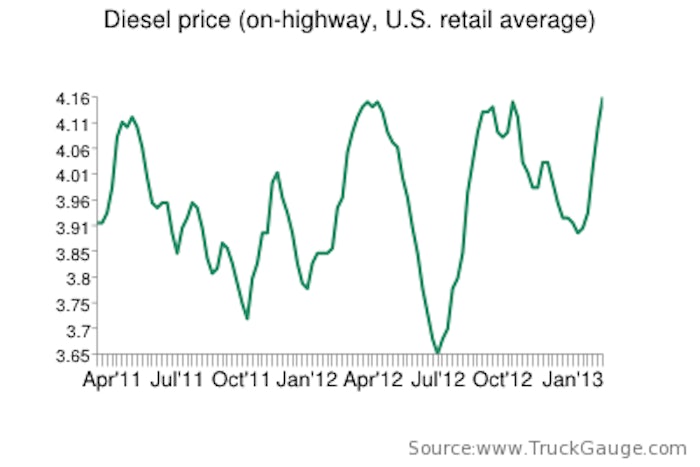 The price of diesel has not been this high nationwide since mid-August 2008. The national average retail diesel price rose 5.3 cents to $4.157 a gallon during the week ended Feb. 18, according to the U.S. Department of Energy's Energy Information Administration. Diesel prices, which are 19.7 cents higher than the same week last year, have now risen 26.3 cents in the past five weeks. The national price came close to this level twice in 2012 — first in early April after rising 36.4 cents in 11 out of 12 weeks and then again in September after jumping 45.2 cents in 10 weeks.
Diesel prices rose in all regions, led by a 7.1-cent increase in the Gulf Coast region. The Rocky Mountain region, which wasn't far behind with a 6.8-cent increase, still has the nation's cheapest diesel on average at $4.032 a gallon. The smallest increase was 3 cents in California, but that's still where diesel prices are most expensive on average at $4.361 a gallon.
Complete diesel price information is available on EIA's Website.