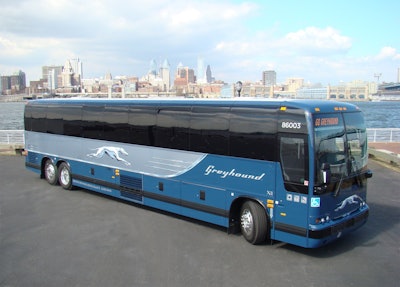 DriveCam, Inc., a global driver risk management company, announced that Greyhound Lines, the largest provider of intercity bus transportation, will deploy DriveCam's driver risk management and fleet management system across its entire fleet for a five-year service contract term.
Greyhound trialed the DriveCam program in its BoltBus fleet, and based on its success, the company decided to deploy DriveCam across the entire Greyhound fleet. As a client of Rair, a division of DriveCam, Greyhound is now able to take advantage of DriveCam's entire suite of safety and compliance services.
"Greyhound's number one focus has always been the safe transportation of millions of passengers every year across North America," said Dave Leach, president and CEO, Greyhound. "Incorporating DriveCam is one more way we are able to reinforce this focus."
DriveCam combines data and video analytics with real-time driver feedback and coaching. DriveCam uses a Driver Science Engine, its patented, iterative process of scoring, prioritizing and tracking the results of driving behaviors, to identify behavioral improvement opportunities for increased safety. In-cab video captures driving behavior, which is objectively reviewed and scored, then passed on to the fleet for use in coaching drivers.
Fleets manage the DriveCam Program through DriveCam Online, a web-based online portal. DriveCam also has a fuel management system that combines real-time, in-cab feedback with online reporting and coaching to improve fuel efficiency by focusing on three areas: efficient or "smooth" driving, idling and speeding.