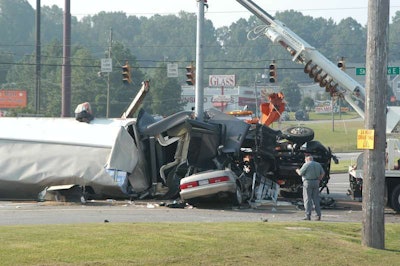 The Truck Safety Coalition has sent the American Trucking Associations a letter blasting it and its findings in a report released last week that concludes 80 percent of car-truck crashes were caused by car drivers and not truck drivers.
Members of the Truck Safety Coalition addressed the letter to ATA President Bill Graves and ATA Chairman Dan England, whose original report — Relative Contribution/Fault in Car-Truck Crashes — was done mostly to make a point about the lack of crash accountability and fault in the Federal Motor Carrier Safety Administration's Compliance, Safety, Accountability program.
ATA's study was a round-up of studies done in the previous decade by the University of Michigan, National Highway Traffic Safety Administration and even FMCSA — which is one of the main points of contention for the Truck Safety Coalition.
The report, says TSC, "rehashes and misuses old studies in order to blame the drivers of passenger vehicles for causing most two vehicle crashes between light passenger vehicles and large trucks." The letter then goes on to cite numbers from the Department of Transportation, National Highway Traffic Safety Administration and Insurance Institute of Highway Safety to present an alternative view to ATA's, saying that in car-truck crashes, "97 percent of the people who die are the occupants of the cars and light trucks."
"The ATA misuses these studies by claiming they identify who is at fault in two-vehicle truck-car crashes, which the studies did not do, and specifically claimed they could not do," says the letter.
The Truck Safety Coalition — a joint effort between the Parents Against Tired Truckers and Citizens for Reliable and Safe Highways — concludes its letter by saying the trucking industry and ATA should "stop the cruel public relations game of shifting attention away from the unacceptable death toll caused by big trucks on our nation's roads," then implying it should accept the regulatory changes from FMCSA and others.
The group also sent the letter to FMCSA Administrator Anne Ferro and several members of Congress.
Click here to read the letter in its entirety.