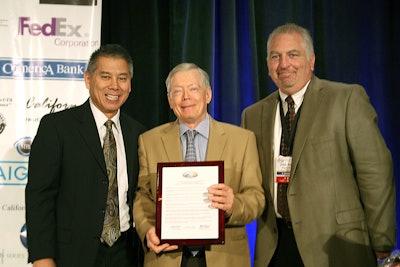 Utility Trailer Manufacturing Company announced that the company's CEO and Chairman of the Board, Paul Bennett has been honored by the California Trucking Association (CTA).
Since 1934, CTA has been serving the California trucking industry by advocating sound transportation policies, regulations, training, education, and other resources to help maintain a safe, environmentally responsible and efficient transportation system in the state. Utility Trailer Manufacturing Company has been a part of CTA since 1955. Additionally, Bennett served as Chairman of the Truck Trailer Manufacturers Association.
The honor from CTA recognizes Bennett for "50 plus years in the trucking industry, and for his pioneering role in the development of California's trucking industry," stated Michael D. Campbell, CTA's CEO/EVP. "On behalf of CTA, this honor expresses its appreciation for Paul Bennett's dedication to the development of advanced designs and test methods that have resulted in light weight, efficient, durable, high quality, and cost-effective trailers." The honor was recently given at the 2013 Annual Management Conference in Westlake Village, CA.
Bennett is now officially a part of CTA's Golden Jubilee Club, which recognizes "pioneers" with a minimum of 50 years in the trucking industry. "I am truly honored to be given this recognition and to be a part of CTA's group of distinguished individuals," said Bennett.