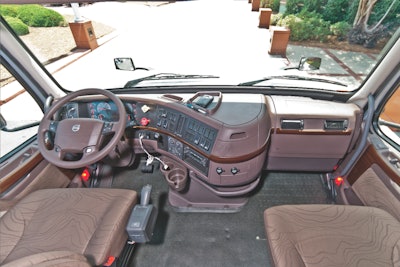 I've been driving for 30 years now, and in those three decades, I've seen a lot of technological changes in both automobiles and commercial vehicles. For me, the two greatest innovations during that time have been keyless entry and intermittent windshield wipers.
But today's pace of technological evolution in the automotive industry goes far beyond those relatively simple innovations and is accelerating rapidly. Vehicles today are smarter, safer and more productive than ever – provided that drivers are aware of new technology and understand how to get the most out of it.
This thought occurred to me not long ago when I flew to Greensboro, N.C., to spend a day test-driving Volvo's outstanding VNL 670 tractor. Frank Bio, Volvo's North American product manager, was on hand to guide me through the test drive and make sure I understood every facet of the truck and its operating systems.
Frank's the perfect guy for the job. He's got more than 40 years of experience at both Mack and Volvo. Point to any nut on the tractor, and he knows why they opted to make it a 10 mm instead of a 15 mm; his knowledge of Volvo's trucks is that intimate.
One thing Frank reinforced for me as we conducted a vehicle walkaround and then a test drive was the great lengths Volvo engineers go to in order to make drivers safer and more productive.
High-tech trucks:
Modern safety systems help fleets be safer and more productive.
Training trick:
Many drivers aren't aware their trucks are equipped with systems that can help them.
Worth the effort:
These systems are proven to help fleets save time and money.
Volvo isn't alone in this effort, of course; all the truck OEMs take driver comfort and safety seriously. There are multitudes of crash avoidance, communication and productivity systems on the market, and many of them are standard features designed into the vehicle regardless of the trim level being spec'd.
This jumped out at me as Frank ran through the list of driver-specific features in the VNL's cab, from hands-free Bluetooth communications to the outstanding I-Drive automatic transmission and XE13 optimized powertrain.
One cool feature harkens back to the intermittent wipers I mentioned earlier. Frank showed me Volvo's system, which instead of preset wiper speeds allows the driver to move the wiper stalk to the "set" position, hold it for the exact wiper interval he or she wants, then return it to the "on" position for use. It's an infinitely variable system that allows the driver to meet any conceivable magnitude of rain they encounter.
But here's the thing: Do drivers know the system is there and understand how to get the maximum use out of it?
The same question holds true for the I-Shift transmission – which is packed to the gills with productivity enhancement features. Those features are there just waiting to be used to their fullest advantage. But do drivers know how to use them?
I have no doubt fleet managers know all about these features and understand the benefits they offer both to a fleet's bottom line and to drivers at the end of a long, tough day. But is that information being communicated effectively to hundreds – if not thousands – of drivers who may be scattered at terminals all across the country?
Of course, all the pertinent information is contained in the owner's manual. But – and let's be honest – who really reads owner's manuals? And even if drivers actually take the time to read the manual, there's no substitute for hands-on experience to showcase a new feature's usefulness.
Fleet training is an option – and certainly new driver training is an effective method of getting the word out. Another option might be to partner with a dealer and have them brief drivers on new vehicle systems and features.
It's a tough nut to crack logistically – particularly for large fleets – but it's worth the effort. There's no question new vehicle systems can make drivers safer, more productive and better rested. More importantly, many of these systems are proven winners when it comes to saving time and money – and nothing affects the bottom line as dramatically as time and money.