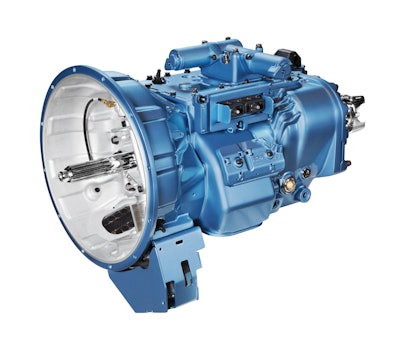 Eaton has announced the launch of its Fuller Advantage Series of heavy-duty 10 speed transmissions, which is scheduled for commercial production this September.
Fuller Advantage Series transmissions will be available in both manual and automated designs, with automated versions scheduled for production in the first quarter of 2014.
Driven by the limited availability of experienced drivers and safety and fuel economy concerns, Eaton says they expect a 5 percent uptick in their automation segments by the end of next year.
The company says it incorporated several efficiency and weight saving designs in its newest introduction, including an improved shift feel.
"This initial launch is designed for our linehaul and regional haul customers, and the Fuller Advantage Series transmissions include the most performance, reliability and maintenance savings upgrades," Jeff Walker, global product director – manual transmissions for Eaton, says.
Eaton highlighted a new precision lube system as one of the most important innovations in the new transmissions. The system, Walker says, reduces the oil churn energy losses found in traditional transmissions by nearly 33 percent.
With less heat being generated in the case, the Fuller Advantage Series transmissions do not require a cooling system, or nearly 12 feet of cooling lines. The elimination of an oil cooling system adds 60 horsepower back to the engine, the company says, diverting the energy formerly used to power a now non-existent fan.
The introduction of aluminum as the shift bar housing and auxiliary section cover and range cylinder, when added to the weight savings of eliminating the cooling system, adds up to 75 pounds.
Through third-party testing, Eaton says improved designs and weight reduction reflected a fuel economy improvement of 1.9 percent versus comparable transmissions.
With eyes toward reducing maintenance costs, the Fuller Advantage Series includes a new oil level sight glass that allows for routine oil level checks to be performed faster and is coupled with an in-cab low fluid level alert. Additionally, the precision lube system uses only 16 pints of oil, nearly half of that used in similar transmissions.
"The fuel economy improvements due to efficiency gains and weight reductions, reduction in maintenance and overall superb reliability of these new transmissions will definitely contribute favorably to the bottom lines of our fleet customers," added Walker.
Technical aspects of the Fuller Advantage Series include:
• Gross Commercial Weight (GCW) ratings up to 80,000 lbs. without an oil cooler and expansion to 110,000 lbs. post product introduction.
• Torque capacities from 950 (1288Nm) to 1,850 lb./ft. (2508Nm).
• Standard eight- and six-bolt Power Take-Off (PTO) openings.
• Optional through-shaft PTO.
• Ten forward speeds (direct and overdrive) and two reverse.
Initial production will include 17 new manual specifications with ratios ranging from 15.42 to 17.53.
All of the new Fuller Advantage Series transmissions come with a standard five-year/750,000-mile warranty for linehaul applications and are backed by the Roadranger network, including more than 200 drivetrain professionals throughout North America.