"Use it or lose it" is an appropriate adage for any training program for drivers, administrative staff, technicians or managers. Once the training is complete, people must apply what they've learned, or their new knowledge and skill will fade and ultimately vanish over time.
In practice, giving employees an equal opportunity to apply their training can be difficult. Some are better at certain jobs due to natural ability or experience. A fleet maintenance supervisor can spot his expert technicians, and he will assign them the more complex repairs time and again. He needs to ensure the repairs are completed on time and at a high quality level to please his own boss and customers.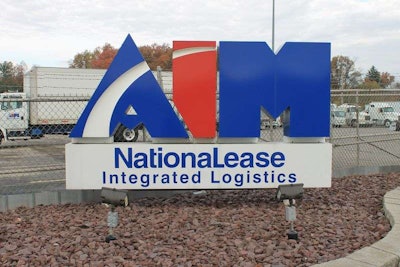 AIM NationaLease operates 44 maintenance facilities across the nation that service its two company divisions: a leasing and rental fleet of more than 7,000 trucks, and a 400-truck Dedicated Logistics fleet. Last June, the Girard, Ohio-based company created a strategy to make its technician training more effective by monitoring repair work assigned to trainees after they complete a course.
AIM has three full-time trainers that travel the country to teach technicians onsite. The class structures have been in place since 2011. Nothing seemed to be lacking in the program's quality, but the results were uneven at times.
Suppose a trainer held a class on repairing reefer units in January at the facility in Buffalo, N.Y., and 10 technicians attended the class. Six months later, a technician in Buffalo quit. Suddenly, management saw the quality of reefer repairs begin to suffer.
"We trained 10 people there, so how could losing one guy impact the operation so much?" says John Reed, chief information officer. "The answer was that once the class was over, the expert at the shop was still getting all the work. The trainees would lose the skill before they ever got a chance to use it."
The new watchdog
AIM had been using a software system developed in-house, ProStaff, to track human resource information such as personal information, vacation time, disciplinary actions, certifications and accidents. Chris Disantis, director of training and field technical support, collaborated with Reed and his IT team to create a new method to track the training and experience employees received.
The company has seven different training courses organized by vehicle system, such as tires, electrical and brakes. Whenever technicians complete a course, trainers enter a three-digit Vehicle Maintenance Reporting System code into the technician's training profile in ProStaff; this new feature was added last June.
The full VMRS code consists of nine digits and is used by AIM to track repair information in its fleet maintenance software system and also identify the technician assigned to each repair. Reed, with his IT staff, created a program that shows if technicians were given opportunities to use the training soon after they completed a course.
To do this, the program queries the VMRS codes from repair orders in the maintenance software by facility. The program looks at the first three-digit system codes – denoting the vehicle system (tires, brakes, transmissions, etc.) – that were recorded during a given time period, such as 90 days, following a training course.
The program also queries ProStaff to find the technicians in the facility trained for a particular system code.
"If there was a class on the safe handling of tires, we would look for a VMRS code starting with 017," Reed says. "If there was training in Buffalo with four students, we would make sure each student was receiving tasks relating to the training."
AIM uses the program to send a weekly exception report to regional coordinators. The report shows the distribution of repair orders for the technicians who took a class and singles out the technicians who received training but were either not assigned tasks or received an uneven distribution.
The exception report helps regional coordinators focus on their facilities that continuously have issues with not spreading the work around.
"Often times, the shop supervisors weren't consciously giving the work to their 'expert,' but with a busy day and a lot of work, their focus was on getting the unit back quickly to the customer and not necessarily about bringing the skill level of the entire team up," Reed says. "The old method may have gotten the job done a little faster in the short term, but the long-term effect was if the expert was off that day, the job didn't get done."
Better planning
As part of the upgrades to AIM's ProStaff software, Reed added planning tools that help trainers locate and focus on technicians and facilities. At a glance, the software shows the courses that technicians, by facility, have completed and which ones they are lacking. It also shows the grades they received for each class.
Having this and other information in a database, as opposed to on a paper form or spreadsheet, has proven useful for scheduling advanced courses that have prerequisites. Ideally, the prerequisite courses need to be scheduled within a shorter timeframe to help technicians retain information.
Before the upgrade to ProStaff, trainers were relying on records kept by shop supervisors and their own paper records to plan their schedules.
"We had all the right information, but we were not putting it all together," Reed says. "Now we can see who has taken what and who needs what. It's a nice form to use when going into an area."
Up to speed
Changing the natural order of how work is assigned by distributing it to technicians based on their training, rather than their experience level, tends to "slow things down until everyone gets up to speed," Reed says.
But after the initial drop in productivity, the benefits of this method begin to show up in ways that are not always easy to measure with hard data. "You could argue that it's better or worse," Reed says. "But that's the only thing you can do to drive change in the system."
One example of where the new training program could show up in hard data is an increase in certain types of repairs by shift. AIM has day, afternoon and evening shifts at many of its facilities. Before the new training method, complex repairs that came in during the night, such as reefer units, might have been set aside for the expert who works during the day shift. The new method could be responsible for a facility having an increase in reefer repairs during the evening shift.
"If you see repairs happening more frequently, you know things are getting better," Reed says.
As part of the program, AIM began to include a new measure in the scorecard for shop supervisors. The measure – one of 12 criteria in the scorecard – shows how evenly shop supervisors distributed work to technicians based on training. The overall score is used in their incentive bonus calculation.
Employee retention should be another benefit of the training program, Reed says. Technicians will see the training they receive from AIM as part of a career path that begins with a four-year apprenticeship program. Upon completion of the program, technicians get a $16,500 toolkit.
Technicians see themselves become more valuable not only as they complete the training but also as they share in the work, Reed says. "Overall, this method brings up the skill level of the entire facility and increases the speed and effectiveness of our repairs," he says.