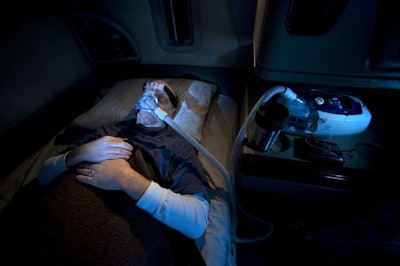 During the opening general session at the 75th annual Truckload Carriers Association's annual convention in Las Vegas, TCA chairman and Prime, Inc. founder Robert Low addressed attendees on the association's major image and advocacy efforts in the last year.
One of Low's main efforts during his tenure as TCA chairman has been driver image, particularly driver health and wellness. "The image of our industry when it comes to advocacy and our drivers – how they're looked at in their local communities – they certainly deserve the public's attention and respect," said Low. "If the reality of our industry is that our drivers aren't very healthy and are dying prematurely, that can't help us in respect to image and advocacy."
Low urged attendees to stick with driver health and wellness initiatives, saying "This is a process that is going to continue for a long time. We owe it to the folks that deliver the freight safely and productively to promote healthier lifestyles. I ask you to start fitness and wellness programs within your own companies to get our folks up and moving and more educated on nutrition and changing their lifestyles."
On the subject of industry outreach, Low said TCA's recent partnership with the Wreaths Across America program resulted in $122,000 worth of wreaths by TCA members. TCA recruited 68 member companies to dedicate trucks and drivers to deliver 400,000 wreaths delivered to cemeteries across North America.
In ongoing support of the Wreaths Across America program, Low said TCA is planning a fundraising gala for the program on September 12, 2013 in Washington, D.C. Individual seats are $250, and tables are $2,250.