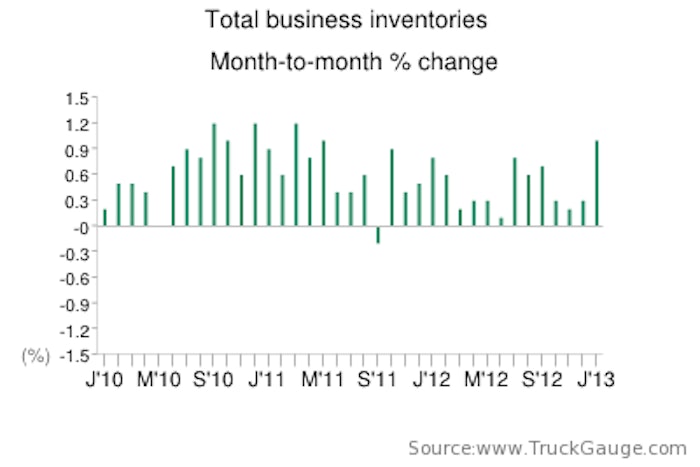 Many trucking executives were pleasantly surprised by freight volumes in January, and now the U.S. Census Bureau has confirmed what analysts already assumed: The trucking industry benefited from a restocking of inventories — especially at the retail and wholesale levels. Manufacturing and trade inventories at the end of January were up 1% from December, according to the agency's advance estimates released March 13. That's the largest month-to-month gain since another 1% increase in May 2011. Year over year, total business inventories in January were up 5.6%, which is typical of recent months. Year-over-year gains have steadily dropped since hitting a recent peak of 11.5% in May 2011.
Most indicators of trucking conditions showed January to be a strong month. For example, the American Trucking Associations said last month that its for-hire tonnage index had its best January showing in five years. ATA Chief Economist Bob Costello said he believed that "trucking likely benefited in January from an inventory destocking that transpired late last year, thus boosting volumes more than normal early this year as businesses replenish those lean inventories." DAT's index of spot freight volume was up 42% year over year. And the Randall-Reilly MarketPulse survey of for-hire trucking executives indicated better-than-expected freight volumes — especially among larger carriers.
Inventory gains in January were particularly strong at the retail and wholesale level, according to the Census Bureau's preliminary data. Retail inventories jumped 1.5% — the largest month-to-month gain since May 2006. At the wholesale level, the 1.2% increase in inventories was the highest since October 2011. By comparison, the gain in manufacturing inventories was mild at 0.5%.
Coupled with a 0.3% drop in sales throughout the economy, higher inventories led to an a slight increase in the ratio of inventories to sales — a metric watched closely in trucking as an indicator of near-term freight volume — to 1.29 from 1.28 in December. When the inventories-to-sales ratio rises sharply — as it did in mid-2008 — businesses in the supply chain typically cut back on purchasing and production and work off the excess. The result usually is a slowdown in trucking activity as was experienced in 2009.
Although a 1.29 inventories-to-sales ratio is not high by historical standards, the last time it was higher was November 2009. On its own, this indicator might raise some worries over near-term freight demand, but another Census Bureau report released March 13 showed strong retail sales in February despite higher taxes and any worries over political wrangling in Washington.