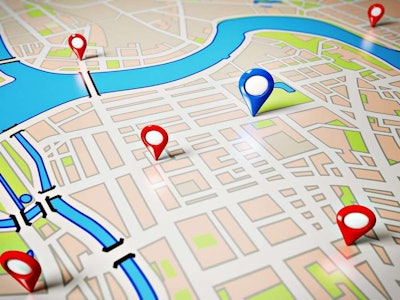 A lot of information must come together for freight to hit the receiving dock on time and on budget. Nothing ever goes entirely as planned, but this reality does not limit technology's usefulness for routing optimization. Meeting customer service requirements while reducing costs might be impossible without it.
Daily planning
When evaluating technology to route your pickups and deliveries, one of the first considerations is how frequently you plan and replan your routes.
Fleets that provide home delivery, such as an organic grocer, might limit deliveries to certain days of the week. Other commercial and private fleets have more dynamic needs; some orders are picked up and delivered the same day, and route plans change on the fly.
C2Logix offers a Web-based route planning system for fleets that have fairly static multistop routes. The service costs $34 per vehicle per month and requires minimal training. To use the system, fleets upload a daily file of their order details, and the software calculates the optimal least-cost route plan.
If companies have a satellite tracking system, C2Logix can compare the plan versus actual performance in terms of time and distance. The software does not use position data to modify routes in real time.
Paragon Software says it is seeing more demand for live daily route scheduling and is configuring its route planning software according to customers' needs. The clear trend is toward live reporting on delivery status as the day progresses, says Will Salter, chief executive. If the software determines a delivery will be late, it automatically can alert fleet managers, who may decide to use the software to reroute vehicles.
Fit to reality
Onboard computing platforms provide a real-time link between the route plan and the reality on the ground. Carriers that use Cadec's PowerVue platform can import the planned route to review performance against the plan. For visualization, users can replay a route turn-by-turn on a Google Earth map display.
Cadec recently released a new feature to edit and append routes dynamically. Suppose a route plan has four stops; if a pickup or delivery needs to be added between the third and fourth stops, a dispatcher could send the driver a separate route, but the reports might show the driver deviated from the original plan. Cadec's new feature adds the new route into the daily plan so that the reporting of planned versus actual metrics such as time and distance line up, says Owen Smith, senior vice president of product strategy.
With few stops each day, truckload shipment routing would seem to be less complex, but the time, mileage and distance of truckload routes are not one-dimensional. The shortest route always is not the cheapest since it may take longer and include other cost factors.
Manhattan Associates' Fuel&Route considers the total cost of dispatch in its route optimization design. The software begins with ALK's PC Miler truck-legal routes – practical, toll discouraged, shortest, etc. – between any origin and destination pair. It then lays a fleet's variable and fixed costs on each route – fuel, tolls, miles, hours and driver pay – to determine the true least-cost route.
"We account for all of that," says Mike Glasgow, Manhattan's carrier account executive. Carriers that use Fuel&Route generally have more than 300 trucks, and the system is not offered through a cloud or subscription model, Glasgow says.
Navigation
Once a route plan is designed, it can be sent to onboard navigation systems to help keep drivers in line and on schedule.
Rand McNally offers integrated in-cab navigation on its TND 760 and 7600 mobile computing platforms. Routes can be pushed to the navigation software and drivers monitored in real time as they progress against the planned route.
ALK Technologies' RouteSync functionality is available in the latest versions of its CoPilot Truck Live in-cab navigation system and PC Miler mileage and routing engine. The functionality ties the two products together between the cab and office.
A fleet might want to customize PC Miler truck routes – such as practical, hazmat or 53-foot trailer – to avoid certain roads or areas. By using RouteSync within PC Miler, the custom routes are pushed to CoPilot through wireless communications.
If the driver goes out of route, CoPilot will warn the driver immediately and recalculate a route back to the departure point or to the destination, according to what setting the fleet chooses. ALK now is integrating RouteSync with major providers of dispatch software and onboard computing systems, says Michael Kornhauser, senior vice president of enterprise solutions.
With the right technology to plan, edit and execute routes, fleets can make reality conform to their designs.