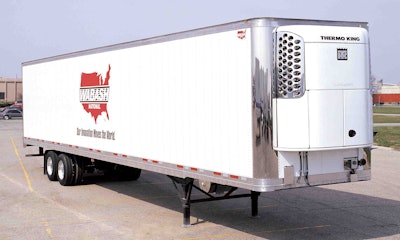 Trailer demand will remain well above replacement levels in 2013 and through 2016, Dick Giromini, CEO of Wabash National told attendees at Monday's Heavy Duty Dialogue, produced by the Heavy Duty Manufacturers Association.
"This period of demand we're in could be the strongest cycle, if not the longest cycle, in our history," Giromini said. Driving demand is an aging fleet – the average trailer is a record 8.5 years old, he said.
Regulations, such as CSA and CARB, are also pushing carriers to buy new equipment to improve safety and fuel economy. And tightening hours of service rules could lead to more drop and hook operations, which will require more trailers.
Giromini's remarks followed a presentation by Martin Daum, president and CEO of Daimler Trucks North America, who noted that aerodynamic efficiencies possible on trucks alone "are nearly exhausted. Most drag comes from the gap between the truck and trailer and the end of the trailer itself," Daum said.
Giromini highlighted a number of technologies available to improve fuel economy, including trailer side skirts (4-7 percent improvement), low rolling resistance tires (duals: 3 percent improvement; wide base: 3-5 improvement), trailer-mounted gap reducers (1-2 percent improvement). "We're exploring every option available when it comes to aerodynamics," he said.
Emerging aerodynamic devices include trailer boat tails (6.6 fuel economy improvement) and trailer under-tray systems (5.5-10 percent improvement), which are available in various configurations and are being tested by several fleets, Giromini said.
Looking toward the future, Giromini pointed to variable ride height suspensions that vary trailer height while in motion. "The closer the trailer is to the ground the less drag and the better the fuel economy," he said. Wabash is also looking at ways to minimize the gap between the truck and trailer and at full-length side skirts that could provide up to a 10 percent improvement in fuel economy.